State Theatre

As the theatrics of college life come to an end with final exams looming overhead, graduates still have time for one final show at a local landmark. Director Doug Levine '98 said he fell in love with the State Theatre as an undergraduate for its old-time theater atmosphere. He said seniors should change up their going-out routine by spending a night downtown and visiting the one-of-a-kind theater.
"It's 82 years old and they just don't build theaters like this anymore," he said. "Beside the wonderful architecture and the beautiful acoustics, it's just a fun way to spend the evening downtown and afterward you can go get a bite to eat or grab a beer."
For $25, seniors can see "Whose Live Anyway," an improv spin-off of "Who's Line Is It Anyway" with "Two and a Half Men" star Ryan Stiles. The show will begin at 8 p.m. on May 11.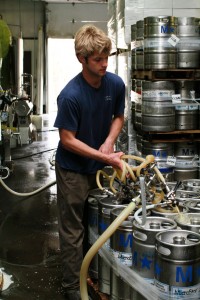 Local Beer Tour
For those who missed Ithaca's Brewfest this September, or who just can't get enough local beer, a visit to a Finger Lakes brewery is a great thing to tap into during Senior Week.
Senior John Geller has done wine tastings in the region but never beer tours. He said after hearing his friends boast about Brewfest and local beer brands, he wants to spend some time in one of Ithaca's tasting rooms before he graduates.
"Everything I've heard about it has been wonderful," he said. "I would definitely consider doing it myself. If you're a fan of drinking beer, it would be pretty interesting to find out how it's made, especially locally."
The Ithaca Beer Company is open seven days a week and offers hourly tours from 11 a.m. to 7 p.m. Saturday and until 6 p.m. Sunday. The Bandwagon Brewpub, located on The Commons, offers a "Tasting With Brewers" exhibit from 5-7p.m. every Tuesday.
Kayaking on Cayuga Lake
Senior Julia Dunn picked up a paddle to kayak on Cayuga for the first time during her freshman year and has been taking friends and student groups along with her ever since. She said before seniors leave Ithaca, they should get off South Hill and spend time kayaking on the lake for a closer view of the area's beauty.
"It just gives you a whole new perspective on the lake," she said. "You get so close to the water. You can go wherever you want and hang out with the ducks."
Senior Sarah Avery said she's going to take advantage of the nice weather before graduation by kayaking on the lake as well.
"The lake is kind of like an icon for Ithaca College," she said. "We see it every day when we're walking past the fountains or driving up 96B. It's so close, and it's kind of something you take for granted."
Seniors who want to explore Cayuga can rent kayaks on the weekends at Puddledockers located on Buffalo Street downtown.
Roller Derby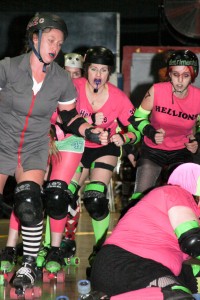 The Ithaca League of Women Rollers is a skater-owned-and-operated roller derby club. It currently has enough members to support two teams, the SufferJets and the BlueStockings, which play other teams in an international league. Roller derby is a fast-paced and high-energy sport where two teams skate around an indoor track blocking opponents from passing the pack and scoring points.
Kitty Gifford, president of the league, said roller derby is the ultimate spectator sport. With its male cheerleaders heckling the crowd and forming human pyramids, she said the atmosphere is exciting.
"We have so much fun," she said. "We enjoy playing this hard-hitting fast action sport, the crowd is amazingly supportive and we have jeerleaders that get the crowd whipped up into a frenzy and help them enjoy the game."
Before students head home for the summer, they can attend the league's first home game at 7 p.m. May 21 in the Cass Park Rink. For $10 they can watch these ladies race, block and cheer their way to victory.
Sunset at Sunset Park
Senior Susannah Faulkner said she often puts her schoolwork and other commitments ahead of spending time with her friends, so she wants her last weeks in Ithaca to be fun and relaxing. She said her fellow graduates should find time to relax at Sunset Park, which she believes is one of the most beautiful places in the world.
"Seniors have to go there before they graduate," she said. "It's the most beautiful view I have ever seen, and I've backpacked Europe — so I've seen a lot of beautiful places. You see all of the lake, all of Ithaca College, all the rolling hills. It's so wonderful."
To take a break from a long week of late-night bar hopping and scheduled senior events, graduates can grab some chips and pack their koozies for an evening of relaxation and great conversation with good friends. Sunset Park is located in Cayuga Heights and is open to the public 6 a.m. to 10 p.m. daily.