From their contemporary repertoire to their fun antics and showmanship, the Chorder Notes, Ithaca College's own barbershop quartet, are a far cry from iconic 1940s red-striped shirts and stuffy style.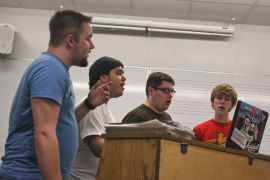 Being the only barbershop quartet in the college's history is not the only thing setting the group apart — the foursome are also all freshmen. The group, which formed earlier this year, includes lead Brandon "Tito" Reyes, tenor Ryan Flynn, bass Bill Connors and baritone David Geary.
Of the Chorder Notes, Reyes, a music education major, is the most knowledgeable about barbershop. He began singing with his high school barbershop choir, where the members doubled — and sometimes tripled — up, on each part.
"I'll call it the 'barbershop bug,'" he said. "It just got me. Now I'm trying to spread that bug here."
Reyes came to college intending to continue barbershop, but meeting the rest of the group was completely spontaneous. Geary, a music education major, met Reyes at freshman orientation. They talked about barbershop until about 2 a.m. After that, the goal was to find tenor and bass vocalists to complete the quartet.
After a chance meeting with Flynn, a music performance education major, and Connors, a tuba performance major, in classes, the all-freshman foursome practiced a few "tags" — the 20 to 30 second parts at the end of songs — in a stairwell in the music building.
The group practiced a bit more before returning to the stairwell to film a performance of "Blue Skies" with a friend's camera and posting it on Facebook to gain exposure.
Dave Unland, associate professor of music performance, found the quartet through a Facebook group for Ithaca College musicians. He said the group's tight harmonies in the video caught his attention from the start.
"These guys are just exceptionally talented," he said. "I thought to myself, I could do something with them."
Unland approached the group members, three of whom are in Unland's tuba ensemble, about doing a collaboration of "Blue Skies" at the tuba ensemble's spring concert April 7.
The Chorder Notes debuted at the Concert for Haiti two weeks ago. Until this event, the group had only performed at impromptu concerts at last fall's Apple Harvest Festival and once outside during a fire drill.
Flynn said their first concert was an exhilarating experience.
"I was definitely nervous," he said. "Once we hit that first note, it was just incredible."
Connors said this music elicits a different reaction from viewers.
"When people hear [barbershop] for the first time, they're like, 'Wow,'" Connors said. "They can truly appreciate it. It's not something they're used to hearing."
Geary said most people are more familiar with a cappella — it has a strong presence both at the college and in the community. He said though the two styles are similar, barbershop can't compare to what groups like Ithacappella, IC Voicestream and Premium Blend do. While a cappella groups typically use their voices to re-create instrumental sounds, barbershop singers instead focus mostly on harmonizing.
"There's definitely some level of competition that we feel between us and the other [a cappella] groups on campus," Geary said. "At the same time, we just want to make our place next to them."
Each member brings something different to the group. Geary helps play out notes on the piano. Reyes supplies the music and leads the group. Connors provides the group's deep bass background. Flynn helps keep everyone in tune, because he has perfect pitch.
Flynn said it's a curse sometimes, but it helps the group harmonize masterfully, which is the ultimate goal.
"When you hit that final chord, you want it to be like, 'Look at this. This is awesome,'" he said.
The group's rehearsals, which are equal parts serious and fun, happen in Whalen stairwells, because the acoustics allow the last chord of the piece to echo seemingly forever.
Flynn said the group tries to make practices as casual as possible.
"We're all crazy," he said. "We're always having a ton of fun and laughing when we're together."
Flynn said meeting as freshmen was the best thing that could have happened to them. Flynn said they hope to grow closer both vocally and personally.
"We're a really tight group," Flynn said. "It's great as a freshman to have such a close group of friends. That bond has really helped the group grow. It's been a great ride so far."
The Chorder Notes are still in their infancy — they're not yet registered as an official club — but are already working on a CD, thanks to a class project for one of Geary's friends Phil Abbott, a sound recording major. Reyes said he also hopes to take the quartet to an international competition later this spring.
The group's tight-knit sound also transcends personal bonds. The group plans to live in the same Terrace next year and keep the quartet going as long as possible — potentially past graduation.
"It's a big brotherhood of harmony," Reyes said.
The Chorder Notes will perform at the Tuba Ensemble Concert at 7 p.m. April 7 in the Hockett Family Recital Hall.