Three students are quickly working to sew up loose ends in preparation for showing their original designs at the college fashion show.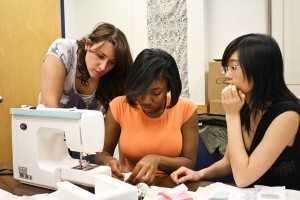 Freshman Diana Cui and sophomores Bianca Lupi and Sydney Normil have each been selected to show three looks at Maestro Production's annual fashion show — called Empire Runway this year — to be held at 7 p.m. today in Emerson Suites. This year's show will be the first year the project has featured three student designers, whereas previous years have featured only one designer.
Lupi, Cui and Normil were selected out of more than 20 applicants. Designers had to submit sketches, a résumé and an application as well as come to an interview with Executive Producer Cara Lawton, a senior communication management design major.
Lawton said the decision to feature more than one designer this year was made in order to emphasize how much creativity students can offer.
"Hopefully other faculty members and administrators will come to understand and appreciate what can come out of the creative minds of Ithaca College students," Lawton said.
For Lupi, an integrated marketing and communications major, love of fashion is rooted in her love of theater. She said designing for theater takes a different skill set, though.
"[Designing for theater] is not as real," Lupi said. "You're creating a character. You're creating a scene in a different time, in a different world that's not quite as strict."
Cui, an integrated marketing and communications major, grew up in New York City. She said she learned most of her design skills from taking classes at the Fashion Institute of Technology during high school. She said one of her greatest influences came from bonding with a childhood friend over having the same handbag.
"I really got into [fashion] after my friend showed me how fun it was, how personal it was and how you can speak a lot with just what you wear," she said.
Normil, a journalism major, showed an interest in fashion at a young age when she used to style her Barbie dolls' outfits. But she said she doesn't like her designs to be as generic as those produced for Barbie.
"I'm the kind of person to never wear sweatpants outside of the house," she said. "Never blend in. That's how I take a lot of things."
Normil said she loves fashion design as well as social issues and wants to become a writer for Vogue before launching her own line.
"I want to be a human rights activist so I want to bring that to Vogue," she said. "There are certain things women should know about that are affecting other women around the world. "
Both Lupi and Cui would like to have a career in fashion public relations before launching their own clothing lines. Cui said her decision to earn a degree from the college rather than a fashion school was influenced by advice from her FIT instructor, who said fashion is 90 percent communication and 10 percent design.
"If [communication] is that important of a chunk, then I should work on communication first and keep fashion as a hobby," she said. "There are starving artists everywhere, and I don't want to be one of those people."
Normil said her designs take basic pieces and transform them to create an outfit that's bold and extravagant. She said clothing should carry a subliminal message showing individuality.
"I like things that reveal who you are as a person without being too flamboyant," she said.
Cui said she likes to provide a balanced mix of structure and softness in her designs.
"[If my design is] going to be feminine, I'll probably mix some masculinity in there just to show that women can dress both ways — that instead of being super dainty, you can [add] some hardness to the softness," she said.
The designers said they consider Empire Runway a step closer to breaking into the industry. Normil said fashion's allure is in creating something.
"I can have an image of something in my head and make it in a physical [way]," she said. "[Fashion] is exciting because it takes dreams and thoughts and makes it reality; it makes it something tangible."