With four women representing the wives of one man, a woman cast as the husband, and all the dialogue in Spanish, "Ramón" is no ordinary student drama production on campus.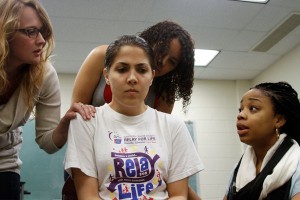 Members of IC Teatro, a student group dedicated to expanding the presence of Latino and Spanish-language theater on campus, will present Catalan playwright Sergi Belbel's short play, "Ramón," this Saturday.
"Ramón" tells the story of an argument between a named man and four anonymous women onstage. The play can be left to many interpretations, and for director Anna Lawrence, a senior Spanish major, the play is about the couple's long-term decline into emotional disorder.
"No one ever addresses anything, there's no communication, and it just kind of culminates in badness," she said.
Cris Ramirez, a sophomore drama major who has acted in and directed previous Teatro shows, said IC Teatro allows student directors and actors to explore a side of theater not often performed at Ithaca College.
"Teatro is a way for Hispanic and other students to be able to explore the world of Hispanic theater in our society," Ramirez said.
Lawrence said the play's universality makes it appealing anywhere to anyone.
"It could be taken as just a relationship between two people," she said. "They don't need to be married or in a romantic relationship because it's about communication."
Lawrence said the story's atmosphere should aid non-Spanish speakers in the audience. The play runs 20 minutes and is entirely in Spanish.
"You can really tell what's happening, know what's going on with the conflict, to a certain extent, without knowing the language," she said. "There's certain emotional appeal everyone can understand and respond to."
Lawrence altered the play for the college's audience. She decided the four women would represent one woman at different stages of her life, instead of four lovers. She also chose to cast a female as the main male character because of the show's production history.
"[This casting] doesn't cause an immediate conflict," she said. "You have to pay
attention. Not just glance and say, 'Oh, there's four women ganging up on a man' or 'There's a man mistreating,' but you have to really listen to what they're saying."
The performance will be followed by a staged reading, the premiere of Lawrence's "El
Armario" ("Out of the Closet"). Her short play is written in Belbel's creative style, to pair with "Ramón," and it depicts a character of unknown gender struggling to decide whether to go through with a medical procedure, which is alluded to as a sex change operation.
There will also be a talk-back panel with Lawrence, Spanish Professor Annette Levine and the cast. The events are part of Lesbian, Gay, Bisexual and Transgender Awareness Month, also known as Gaypril.
Senior Mary Apesos, who does publicity for IC Teatro, said that while the group is a one-credit class, they are looking to become an official organization on campus. As a journalism major, Apesos said that it is easy for anyone to join the group, no matter what they study or what language they speak.
"[IC Teatro] is a great a opportunity to get involved even if you don't like theater," she said. "You can do what you do best while helping the play. It's been a really great cultural experience."