Within the newly constructed Ithaca Beer Company taproom, a vast curved bar is lit by afternoon sun, inviting customers to leave behind typical dark-interiored bars. The taps, each bearing a name of one of their locally brewed beers, ride the contour of the marble bar.
The taproom, which opened Oct. 11, is located at 122 Ithaca Beer Drive off of Route 13, roughly a 10-minute drive from The Commons. The space is a combination of wood, marble, glass and stainless steel. The aesthetic emphasizes the industrial yet modern look Ithaca Beer Company owners Mari and Dan Mitchell intended to showcase.
For Mari, the taproom is the realization of something she and her husband have wanted to implement since the company's creation.
"When we first opened the brew company, we talked about opening a brew-pub and a restaurant, and just because of location, that never worked out," she said. "It was just a natural thing for us."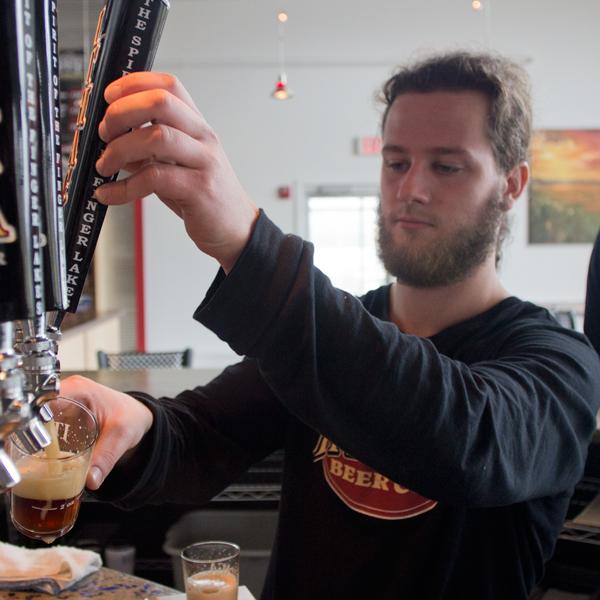 Since its establishment in December 1998, Ithaca Beer Company has been a prominent presence in Ithaca. Mitchell said the brewery, which once stood at 606 Elmira Road, has moved to its new location in response to the heavy traffic their establishment received.
"It's always gotten really crowded [at the old establishment], with the tourists and the guests coming," she said.
Ithaca Beer Company produces a large selection of brews that are distributed in seven states — New York, Ohio, Pennsylvania, Connecticut, Massachusetts, New Jersey and Rhode Island.
Two of their brews, CascaZilla, their year-round red ale, and Flower Power, their year-round India Pale Ale, have received praise in competition. CascaZilla took first place in its category in 2009 at the Great International Beer and Cider Competition held in Providence, R.I. Flower Power reached the final four bracket at the 2008 National IPA Competition.
Their limited-run annual blends, which exclusively bear the moniker Excelsior!, have also reaped in their share of awards, notably Excelsior! Brute, which took silver in its category at The Great American Beer Festival.
CascaZilla and Flower Power are on two of the 17 taps featured. Other beers include a lighter Apricot Wheat Ale, a balanced Pale Ale and a darker Nut Brown.
Because they brew soda in the same apparatus as the beer, five of the 12 taps are reserved for their non-alcoholic products. These include root beer and ginger beer, and the staff mentioned a cider is in the works, which would occupy a tap in the future.
Ithaca resident Jim McCutcheon, a visitor to the taproom on its opening day, said he appreciated the brewery's original approach to a taproom.
"I don't think there's anything else like this around," he said, trying a sampler of the brewery's beers with his wife, Susan. "It's very unique."
Upon entering, visitors will notice the massive window that spans the taproom's right wall. Behind it are the steel innards of Ithaca Beer Company's brewery, where the beer on tap is made. Atypical to a normal alehouse, anyone can watch the beer being brewed.
Similarly, across from the glass wall, another window reveals Ithaca Beer Company's property, overlooking the company's farm. Introducing a restaurant feel to the building, they plan to open their first full kitchen in November, allowing some menu items to feature their own homegrown produce.
It's the in-house mentality and producing as much as they can internally that senior Keara Dowd especially values.
"They have been really trying to make things local, and I really appreciate that," she said.
Ithaca Beer Company plans to begin brewery tours in November. The tours are designed to bring patrons behind the glass wall and get a closer look at the process of creating and selling the company's wide range of brews.
Susan McCutcheon said she expects the taproom will spark tourism and bring in visitors.
"It's going to get people at this end of town, which is a beautiful end of town," she said.
Mitchell hopes that the taphouse will draw tourists and cement it as a place to visit.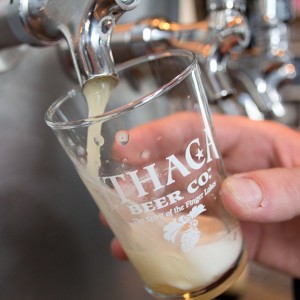 "So many tourists come through, we were just ready to have a spot," she said. "Someone can come through and have a beer."
Bartender Rusty Hamilton said to a patron that there was much public stir over the opening of the taproom throughout its two-month hiatus.
"At least twice a week, whenever I talked to someone: 'Hey you work at the brewery? When do you guys open up?'" Hamilton said to a patron.
If all goes accordingly, Mitchell said, Ithaca Beer Company will prove to be a worthy stop for many, and there will be more to come from the company. To let the public know they're back, Ithaca Beer Company will be at Oktoberfest on Oct. 27 on The Commons and at a tasting Nov. 2 at Wegmans.
"We'll be ramping up," Mitchell said. "We've got a lot of fun ideas and events we'll do."
Beer enthusiasts may also see the range of beers expand. Hamilton mentioned the possibility of taproom-only drafts and microbrews.
"We're going to be able to start doing drafts only available here," he said. "We'd be focusing on things exclusive to here."
Until then, customers can try a variety of beer flights, which are a popular choice of many visitors. The taproom features four flights — Excelsior!, Year Round, Hop and Seasonal, all featuring a different grouping of beers, and each for $7. Dowd recommends the flights, praising their ability to give diners a wider range of beers to enjoy.
"I would definitely recommend the flights, since all of the beers are just too delicious to get a pint of one," she said.
A cheese platter is also available offering local cheeses to accompany the flights and is served with farm-grown tomato jam and a warm baguette for $5.
The taproom is open noon to 7 p.m. from Wednesday to Sunday. Once the kitchen opens later this year, the closing times will be extended to 9 p.m. to accommodate dining hours.
Dowd, who was present at the taproom's opening, said the company has great significance within the community and will continue to for years to come.
"It's just been a staple of the town," she said. "It's kind of an identity people from Ithaca can have."