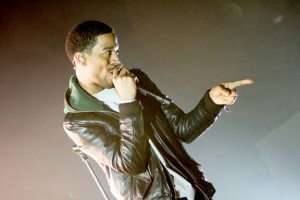 Saturday's Kid Cudi concert at Cornell University's Barton Hall was more like one-third of a Kid Cudi concert. He didn't enter the stage until almost two hours into the night, giving the first two performers more time than they should have had for their sets. But when Kid Cudi finally did grace the stage, the concert instantly turned 180 degrees away from mediocre.
Kanye West pulled Cleveland, Ohio native Kid Cudi onto the music scene, and it seems Cudi is doing the same thing for Chip the Ripper, the concert's opening act. Kid Cudi may have some talent, but he doesn't have the ability to spot it.
New artists need to burst onto the rap scene, not nestle into it. Chip's lyrics were all about girls, partying and weed ­­— typical, cliché and offensive. "I like my girls how I like my blunts, and that's two going at once," he raps. Newbie Chip doesn't have the level of fame yet for people to disregard his blatant sexism. Physically, he looked stiff and exhausted despite bringing virtually zero energy on stage.
Cee Lo Green, a member of Gnarls Barkley and the concert's second act, told the audience "tonight you can call me Gnarls" and unexpectedly broke into "Smile," a song known by fans of the band. "Crazy" was presented like a live mash-up; Green's lyrics were accompanied by interchanging background tunes, which made for a danceable treat still sprinkled with a throwback feeling of 2007's "St. Elsewhere" album.
Though Green's performance was enjoyable, the sound quality wasn't. His set sounded like static ringtones created by recording a song playing on the radio. This unfortunate setback inevitably brought down the quality of his performance.
During painfully long waiting periods between performers, the crowd obviously became restless. People screamed "We want Cudi!" as others ruthlessly pushed and shoved each other. Perhaps there was a problem with the microphone connection, because crew members looked confused as they got the stage ready for Kid Cudi.
When Kid Cudi entered to wild applause, he began singing, but he couldn't be heard. Whether this was a problem with the microphone or if he was just singing too softly is unclear. As he started his second song, "Revofev," his voice could be heard, but the music still overpowered him.
The sound problems became less of an issue when he got to "Ghost!" His passion for his music was apparent with the smile that stayed plastered on his face. He jumped around the stage singing "Mr. Rager," "Man on the Moon" and "Soundtrack to My Life." These songs are usually slow on the album, but Kid Cudi presented them as amplified, faster-paced versions, which engaged the audience well.
Chip the Ripper came to life when he joined Cudi on stage to sing their duet "All Talk." It seemed being on stage with Cudi gave Chip a level of extra energy he lacked during his solo act. The two shared a great deal of chemistry, delivering a solid, clean number.
Twice during the show, Kid Cudi gave heartfelt speeches that illustrated the poetic truth his songs are made from. He talked about his surprise that he became so popular, as well as about people who start to hate others when they become successful. His second talk was geared toward his college-aged audience, saying "All that matters is what you want to believe — what you want to do."
Kid Cudi ended the concert with his latest, well-known song, "Pursuit of Happiness," which didn't sound as clean as the CD version. But for the crowd, this didn't seem to be a problem as they danced and sang along.
Though Saturday's concert was full of sound problems and a boring opening act, the apparent passion Kid Cudi brought to his performance made up for all other difficulties. As Cudi finished his last song, he yelled out, "I love you, Cornell!" As the crowd fanatically screamed, jumped and waved their hands, it was apparent they loved him too.