As then-junior Sara Fitouri stood in front of a class of Palestinian girls, a sudden explosion shook the windows and made her ears rattle. The students continued their work. For them, it was normal.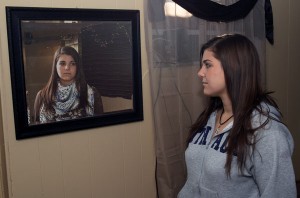 Fitouri spent the spring of her junior year in Nablus, Palestine, as a volunteer for Teach for Palestine, an organization that provides free English language and sports lessons to Palestinian youth.  In that time, she learned to ignore the sound bombs hitting the streets.
She was offered a job with the organization through friends she met visiting Nablus, but wasn't sure she could do it. As a child in Colorado, she was taught to believe Palestinians were her brothers and sisters by her father, a Muslim born in Libya. But turning away from the traditional path of an American student — getting a diploma, then a job or a higher degree — was difficult because it wasn't what was expected of her.
"I wasn't going to have another opportunity to do this," she said. "Even though it meant telling my mother that 'Hi, your daughter's running off into a conflict zone,' it's something I knew I wouldn't have been happy with myself if I didn't do."
On her first day of work at the girls' high school in Nablus, she saw a 20-foot wall with an additional 10-foot-high chain-link fence decorated with ivy surrounding the school building and yard. A security guard stood watch outside. Only women are allowed inside the gates, so the 12- to 15-year-old girls could escape the burdens on Muslim women in the city.
"It's this incredible free zone where I didn't have to be worried about what guys are watching me on the streets," she said. "On the streets, [women] have to be very poised and covered."
Helen Brooks, assistant director of Teach for Palestine, said some of the female volunteers struggle with being harassed on the street because women are expected to be either at home or work.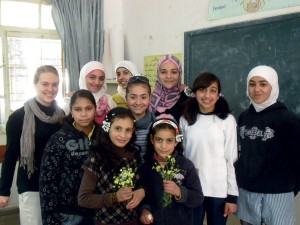 "Girls around here, particularly high school girls, are discouraged from playing sports and being confident — all the things Sara really likes and encourages them to do," she said.
For Fitouri, teaching wasn't about helping the students build language skills — most of the girls won't be allowed to leave the country or be able to afford a college degree.
"I had some concerns with what I was teaching them," she said. "It wasn't my place to go in and say, 'Yeah, liberate yourselves," Fitouri said. "I just wanted to understand, and I wanted them to understand me."
She said part of getting to know her students was seeing the violence they lived with every day. While traveling outside of the city, she saw 18-year-olds carrying rifles, and the people around her didn't think twice. She flinched as fighter airplanes roared above of her school, but her students didn't look. Martyr posters plastered the walls of buildings, and a nearby cemetery was constantly filled with fresh flowers and pictures of children.
"Nablus was hit the hardest during the last intifada," Fitouri said. "They were massacred, so it's like you don't meet someone who doesn't have somebody dead in their family."
She said seeing how the money the U.S. sent Israel as foreign aid was used to  oppress her students and their families made her question the importance of her work in the classroom.
"It seems so contrite and fake to be like, 'I taught them English,'" she said. "Who cares? My tax dollars, my own personal tax dollars, have undone any good that I could have done."
In the classroom, Fitouri taught her students the few American songs she could find that were appropriate for her Muslim classroom. She decided her students would learn "I Am Woman" by Helen Reddy.
"Every time they were singing 'I am woman, hear me roar,' I was forgetting for a few moments the pain I was in or, for a few moments having a connection with them," she said. "I was the big, strong teacher who would never fail and never fall, and was there to hug them when they needed to cry. I needed that class more than they ever did."
The day before her three-month visa expired, Fitouri left Nablus. One student gave her a pouch with a Palestinian flag-shaped necklace, and letter that read, "I love you so much, I know you'll probably forget me, but I'll never forget you. Always remember Palestine."
Fitouri said her co-workers, like her,  wanted to do something in Palestine other than simply teach English. Some came to escape student debt, some were looking for a distraction after a personal disaster and some were so disillusioned with their country's policies they chose to leave.
"It wasn't the satisfaction of volunteering and the 'self sacrifice' we could claim out teaching," she said. "They needed to get away from something or they needed to find something."
Fitouri's father, Ezzedin, noticed she had changed when she came home. He said she was more mature and grateful for what she has.
"I can see it in her face that she really loved them," he said. "I'm so proud of her."
Fitouri continues her Palestinian adventure on campus as a teaching assistant for Beth Harris, associate professor of politics. She helps to facilitate Skype conversations and shares blogs between students at the college and students from a university in Nablus next to where she lived. The initiative is part of a partnership between Harris and Peyi Soyinka-Airewele, associate professor of politics, which focuses on connecting classrooms around the world.
"When we're learning, we make assumptions about the given understandings that our knowledge is based on," Harris said. "Reaching beyond borders creates a greater self-consciousness among the students, both individually and collectively."
Fitouri said working in Palestine made her see the conflict as more than a policy debate or a foreign issue.
"It's not this abstract Jews versus Muslims, and Palestinians versus Israelis," Fitouri said. "As much as people want to declare themselves neutral, if you're not speaking out against the occupation, then you're, by default, supporting it."