Professor of physics Michael "Bodhi" Rogers has a passion for the sciences and chrome. After a long day of classes, he walks over to the Admissions parking lot behind the Center for Natural Sciences. In one hand is his briefcase and in the other a slick, black helmet.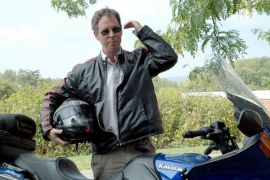 When most people think of those who drive motorcycles, some cliché generalizations probably come to mind: buff men in leather jackets with goatees who travel in packs on Harleys and park by the dozens in front of biker bars. However, Ithaca College's riding population is made up of an entirely different breed of bikers — professors.
Rogers' reason for riding motorcycles is not to look like a tough guy; his passion for riding derives from his love for the sciences.
"It's neat," he said. "As I'm riding I think through the physics. If you want to take a left turn, you have to turn the wheel to the right. It's called countersteering. There's cool physics about why it works that way."
WICB station manager Chris Wheatley, who rides his motorcycle to campus every day, said there is no "stereotypical" rider.
"Outsiders see the leather jackets and they think that we're all Hells Angels," he said. "The reality is we're college radio station managers and professors and so forth."
Matthew Sullivan, assistant professor of physics, also rides to campus every day on a motorcycle. Sullivan, who purchased his ride in 2006, said there is a communal lure of riding, whether one is associated with an exclusive riding pack or not.
"The social aspects to motorcycles are definitely there, and if you own and ride a motorcycle, you're automatically a part of that," he said. "Like anything else, motorcycles have their own language. When one motorcyclist passes another, they place their hand towards the ground and wave to each other."
Jerry Lyon, owner of the Suzuki dealer Gold Sport Cycle in Ithaca, said motorcyclists share a common bond over the dangers of riding and exploring the open road.
"Motorcycle people are pretty curious folks," he said. "You see people come down from Rochester. I know some people who did a ride down to Washington, D.C."
Lyon, who has owned his store for 30 years, said he believes Ithaca is a perfect riding location for the estimated 2,000 bikers in the area.
"Ithaca is a nice central area," he said. "An hour to an hour and a half will get you to some nice places. Lakes are always good, or you can go south, below Elmira."
At the college, many faculty members ride motorcycles because it's easier to find parking. Jerry Mirskin, associate professor of writing, said certain locations on campus allow motorcyclists to park on the sidewalks, making it convenient to get to classes.
Sullivan said the downside of owning a motorcycle, however, is that it can only be parked outdoors and ridden during the riding season (April to October). The Ithaca season ends relatively early because of the inclement weather that comes along with the winter months on Cayuga Lake. Faculty members don't pay for parking passes, but students do. Wheatley said because students are paying for a year-round parking pass for their motorcycles, like other students' cars, they are paying for a spot they aren't using from November to March. He said a monthly permit for motorcyclists would save students money.
"If it was possible for parking services to do it monthly, that would be preferable," he said. Incoming freshmen are faced with a $500 parking fee for bringing a car or motorcycle to campus. Upperclassmen pay $113, but riders store their bikes for more than half the school year.
Sullivan also said motorcyclists are fortunate because riding is cheaper than driving a car. And in the recent economic recession, finding the cheapest solution to paying for rising gas prices is a serious concern.
"The choice of opting to have a motorcycle is more environmentally friendly," he said. Sullivan's motorcycle gets better gas mileage than his car. He said he has found that every motorcyclist can improve gas mileage with regular care, for example, by cleaning the carburetors.
Wheatley said some motorists fear the South and East hills when students begin to flood the campuses in the fall.
"It's a matter of being confident as a rider," he said. "[Local riders] don't commute because they're concerned. 'What if traffic stopped on South Hill?' They're not sure if they can get going again."
Wheatley said when the town fills up with more people, it is much riskier to drive because people aren't looking.
"I ride as if I'm invisible," he said. "As if no one can see me."
For Mirskin, buying a bike added a little adventure and spice to his everyday life.
"It's sort of the latest instantiation of my midlife crisis,'" he said. "You know, I've got the hair, I've got the guitar, I've got the boat, so now I can check off the motorcycle box."
For Sullivan, the appeal of riding motorcycles is more than being a tough guy in a leather jacket — even though he said he likes the leather jacket.
"You notice all of the smells of the land you go by," he said. "The experience is much nicer, much more pleasant. You're much more connected to the land [because] you're not in a box."