British singer M.I.A. is known for controversial antics and songs that emphasize electronic sound and emotion. She's been the brunt of criticism this past year after she delivered disappointing performances that lacked focus and energy as she mumbled her lyrics and made fans think she looked too high to perform. Though she definitely didn't seem sober at her concert yesterday at Cornell University's Barton Hall, she brought no shortage of her famous energy and wild stage presence.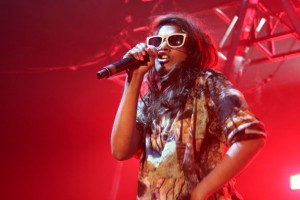 M.I.A. has created top-hit albums that combine hip-hop and dance lyrics to electronic music bursting with both alternative and world genres — a mix that has earned her recognition as an eclectic artist whose unique club music serves as an example of her self-proclamation as the "anti-pop star."
Her choice to feature Rye Rye as the opening act attests to her commitment to expose talented, underground musicians. The Baltimore rapper energetically started the show with luminous stage presence like that of a seasoned performer. Her dance skills were like a choreographed version of krumping mixed with hip-hop. She frequently burst into these steps with a sly smile on her face in between punchy, in-your-face lyrics such as "Can't you see I'm the baddest chick, even superwoman can't put a hand on this." Her fast flow, sharp dance moves and visible confidence were reminiscent of the talent that put rapper Nicki Minaj on the charts. Rye Rye's performance showed a level of professionalism that showed the only reason she hasn't reached Minaj's fame status is the fact that she doesn't have the Young Money name to back her up. The M.I.A. protégée's fantastic set left no doubt that somewhere in the near future she'll be recognized alongside today's popular female hip-hop artists.
M.I.A. made her entrance in sunglasses and a large, hooded cape as she began singing "I am a diamond in the rough … I'm always in tight jeans." The microphone often transformed her vocals into loud echoes that reverberated off the walls and reflected her quirky musical personality, making it clear this was an authentic M.I.A. experience.
She performed "It Takes a Muscle" differently than on her 2009 album "Maya." During the concert, the song was slowed down and incorporated mash-up background music and other voices in the background. This difference gave the show a personal, exclusive feel that made seeing her live a more exciting experience than listening to her CD.
For most of the concert, M.I.A. performed her songs in this way, but she did sing "Lovealot" as she presented it on Maya — the lyrics were mostly performed like spoken word and mixed with electronic beats. "They told me this is a free country, but now it feels like a chicken factory," she sang. Out of all the songs on the new album, "Lovealot" resembles her old, distinct style. Keeping it familiar so that fans could sing along worked to her advantage.
M.I.A. interacted with the crowd throughout the show, which made her already quality performance shine. At one point, she told the audience to get on stage to form a mosh pit. As crowd members frantically tried to jump the fence separating the audience from the stage, she got in the middle of them and said, "Help each other." She let the people on stage take pictures with her as she sang "Born Free." She also frequently let crowd members sing into her microphone during almost every song. Rather than just watching a concert, M.I.A. created the feeling of being at a party with her.
M.I.A also took on the role of comedic entertainer at the concert. "Apparently, we can't have alcohol on stage tonight, but I wanted to give you some tequila," she told the audience. Rye Rye then came back on stage and brought a bottle of Patrón with her. M.I.A. took a few sips before starting her song "Teqkilla" and handed the bottle to a crowd member.
It is these types of antics that make M.I.A. such a great performer, but the tricks require rehearsal and a conscious mind to work properly. Luckily, she seemed to be on top of her game this time, flyin' through her set like paper yet waiting for the "high like planes" part until later.