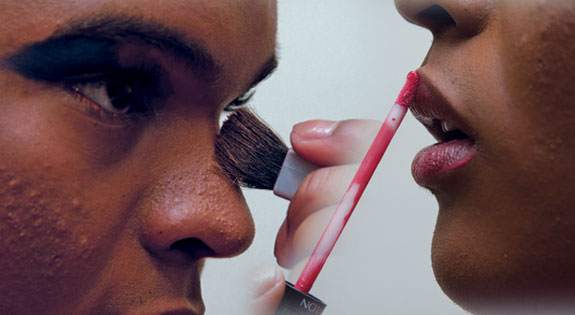 On a Friday evening, sophomore Ben* gets ready to de-stress in a "perfect" night out with his friends. Nicki Minaj and Madonna blast in his apartment as he begins putting on his clothes. The evening, however, can't begin without his heels.
He remembers the lime green pair that he tried on as a child. And he loves the go-to nude pumps in his closet today. Though he does not want to have surgery to change his male sex, he wishes his weekend habit of cross-dressing could be a 24/7 reality. Ben calls himself a "man in the middle" of genders, but he struggles to balance his personal identity as a cross-dresser with his professional career.
"Internally, I wish I could wear heels every day — who doesn't?" he said. "But at the same time, is it going to help me succeed? It's like I have to suppress these feelings for a moment, and then when the weekend comes, it's like OK, bring the heels out."
Ben said he has two drag alter-egos, and he tries to keep them separate. De'Anna Merlot is his more feminine persona — reserved, classy, professional and vivacious. His more masculine personality is called Cris Miliano — physically more natural, but a more flamboyant woman's personality.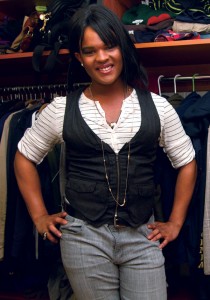 De'Anna Merlot is derived from his "drag mother," cross-dresser Athena Merlot, who introduced Ben to the art of dragging. Athena is a popular drag queen in Ithaca and encouraged Ben to enter a local drag competition this year, which he ended up winning.
His masculine identity, Cris Miliano, was inspired by a friend who he describes as being untamable and exotic. A positive influence, his friend is someone Ben said he admired for her firm confidence in herself.
From 7 a.m. to 2 a.m. Mondays through Thursdays, Ben has a hectic schedule working part time and dealing with a heavy physical therapy course load. Weeknights are his opportunity to have fun with his true self. Cross-dressing, to Ben, is more than a habit.
Shane Windmeyer, the founder and executive director of Campus Pride, an online network for lesbian, gay and transgender students, said cross-dressing is a form of self-expression.
"Cross-dressing is part of the transgender umbrella," he said. "You don't have to be a man or a woman, but you can actually express in a variety of ways across that spectrum of gender."
Ben said he struggled to come to terms with this definition of masculinity, and his cross-dressing had earlier roots. As a child, he described his interest in dressing up as a girl as very natural.
"Every little girl always plays dress up, and they go in their mom's room and try on their necklace, their dresses, their heels," he said. "That was pretty similar in my case."
Ben continues to raid his mother's closet to this day.
A self-proclaimed perfectionist, he said he battles with his body image.
"I have manly features, and I am a man, but it's counteracted by all of these female features," he said. "I have a bit of boobs, I have an ass, I have a tiny waist, I have thick legs."
After slipping on his dress for a night out, Ben sometimes feels self-conscious about his body for fear that he may still look like a man — even after he spent days preparing to dress in drag.
To perfect his look, he takes videos of himself to critique his body and makes sure it passes for a woman's. For Ben, the process isn't just about dressing like a woman, it's about getting the look right. His routine is strict — if he sees even a trace of a masculine feature, such as too much muscle, he tries to conceal it with cosmetic products.
Internally, I wish I could wear heels every day — who doesn't? – Ben*
"Because I am a science major, I know anatomy very well, and I am able to transform rather fast," he said.
Though Ben struggles with his identity, he said he would not have it any other way. He seeks to empower others to embrace every aspect of their identity whether it fits societal norms or not.
"I can describe myself as a man in the middle because I always feel like I'm stuck in between guy and girl," he said. "I don't know if I'm gay, I don't know if I'm straight. Sexuality is my problem. I don't know where I fit in."
Ben said he receives support from his friends, but the lack of acceptance he encounters from his family, especially his mother, is frustrating at times.
"She wanted me to avoid it," he said. "But I explained to her, 'It's who I am.' I'm not going to not do it my entire life just because some principles of her childhood won't agree with it."
Ben's sister said she approves of his cross-dressing and will continue to respect her brother no matter what.
"He's going to be whoever he is no matter what he's doing," she said. "He would never do anything that he didn't think was right or he didn't want to do. It's a part of his personality."
Despite his mother's disapproval, Ben said he maintains a strong bond with her and even sees traits in himself that remind him of her. Like his mother, he is a confident and strong-minded.
"Whatever I do, I want it to be the best," he said. "If I'm doing cross-dressing, I'm not bulls—-ing you — you're going out with a f—ing five-star model."
Editor's Note: While the student featured in this article is open to his friends, family and fellow students about the time he spends cross-dressing and wished to be photographed for the piece, he asked The Ithacan to change his name so it does not appear on Internet search engines and hinder his ability to appeal to prospective employers.