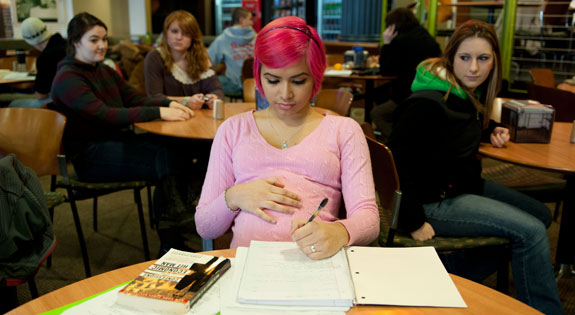 Sophomore Cöelis Mendoza peered out from under her fuchsia bangs with wide eyes at a buzzing crowd of 30 friends and peers, her caramel skin illuminated by the computer screen in front of her. The 19-year-old waddled out from behind the podium, her large, round belly leading the way.
"Look at her little belly button."
"When is she due again?"
"She's gotten so big!"
The volume in the small room rose as Mendoza supported her back with one hand and stood next to the lectern, about to begin her presentation. She took a deep breath to steady her pulse. The audience hushed. With a quick tug from under her dress, Mendoza unveiled a secret she had hidden under her clothing for the past six months.
"I am, in fact, not pregnant."
This was Mendoza's opening statement for her presentation "Conception: The Introspective Journey of a Teenage Mother" on Feb. 7. For the past six months, Mendoza wore a prosthetic pregnant belly as a sociological experiment to understand societal perceptions of teenage pregnancies on campus.
"I wanted to figure out why there are so many stigmas attached to teen moms," Mendoza said. "There is a life growing inside a woman's stomach. Why is it so shunned?"
As a Martin Luther King Jr. Scholar — a scholarship for academically talented students from underrepresented ethnic and racial backgrounds — she was required to pick an area of social justice to study during her time at Ithaca College. Because her mother was pregnant as a teen, Mendoza chose to investigate the social implications of teen pregnancy in a college setting.
When Mendoza first told her mother, Rose Avila, about the project she planned on pursuing, Avila burst into tears. The topic hit close to home.
"I had three children by the time I was 21," Avila said. "At first I thought the project was too close for comfort. But as time went on, I became much more comfortable with it."
A part of Mendoza's goal in her research was to provide more context to the discussion of race surrounding teenage pregnancy. As a Latina, she was forced to confront racial stereotypes as well as typical misconceptions about being a pregnant teen.
Nearly 750,000 American teenagers become pregnant every year, and a majority of these pregnancies are unintended, according to Planned Parenthood. Of these teen pregnancies, Latinas have the highest teen pregnancy rate among ethnic groups in the United States, and 52 percent of Latina teens become pregnant at least once before age 20.
Mendoza consulted her mother, who had her first child at 15, throughout the experiment. Mendoza sought advice and strength, especially at times when she heard negative comments regarding her pretend pregnancy.
"There was a comment made within my scholarship program that 'It would be a Mexican,'" Mendoza said. "Because I got pregnant, the number of stigmas placed upon me served to certain people as justification for the stereotypes that they had to begin with."
In preparation for the experiment, Mendoza had to figure out a way to create a convincing pregnant belly. To make the pregnancy more realistic, she decided to arrive back at college in August three months "pregnant." Mendoza's first two trimesters were then shaped with a body compression suit and some upholstery foam. Every couple of weeks, Mendoza would add more foam into her suit.
"At first the reaction was like, 'Are you fat?' No. 'Is she pregnant?' Maybe," Mendoza said.
As she approached the third trimester, Mendoza did her research and ordered a custom-fitting prosthetic pregnant body suit, which cost her $500 out-of-pocket.
"I figured if I was going to do this, I was going to go all they way," Mendoza said. "There was no half-assing it."
As Mendoza's baby bump grew, she began to receive more attention.
Because the college does not provide support to pregnant students other than medical services covered by student health care, some faculty members reached out to her. Mendoza was strongly advised to take a medical leave of absence. One faculty member even provided her with the contact information of local couples looking to adopt.
While Mendoza was "pregnant," she thought that her experience as a pregnant student in college was better than it would have been if she was in high school or had dropped out. Despite the lack of institutional support, Mendoza said the outreach from the college's staff was mildly patronizing, but the support  was appreciated nonetheless.
"There were a significant number of resources at my disposal," Mendoza said. "On the other hand, there was more disappointment in my pregnancy because I am in college, as if I should know better and my
maturity should attribute to my responsibility and precautions."
She soon came to find that many of her peers frowned upon her condition. Her defined eyebrows furrowed at the memory of walking through the dining hall and catching disapproving looks from passersby.
"It was as if people were looking at me like, 'What did you do?' 'Why are you pregnant?'" she said.
While wearing the false bump, Mendoza found herself growing accustomed to her new shape. Without thinking about it, she often caught herself acting as a real pregnant woman would act.
"Sometimes I would find myself just resting my hand on my stomach," she said. "I would hold my stomach [when walking] because the suit is snap-on and I wouldn't want it to jiggle in a way that's not natural, but also it was security."
Mendoza's boyfriend, Yamir Hernandez, also began to notice that the suit progressively influenced her daily life and even brought upon pregnancy-like symptoms.
"The suit isn't just a suit, she actually experienced side effects," he said. "Because the suit was positioned over her bladder she went to the bathroom more frequently."
Besides her mother, Mendoza sought plenty of preparation advice from her boyfriend, whose sister was a teen mother at the age
of 17. Because he was around his sister throughout her pregnancy, Hernandez better understood the movements and mannerisms of pregnant women.
"I put heavy books into a backpack and had her put it on as a mock pregnant belly for Cöelis to practice standing up and sitting down," Hernandez said.
While out in public with his girlfriend, Hernandez said he received just as many glares. Though he anticipated those reactions, Hernandez could not help but feel wrongly judged.
"People would see her belly and immediately look at me with assumptions," he said. "But this was expected."
As Mendoza's "due date" approached, the couple was bombarded with questions. They said the biggest concern among their friends and peers was their plans for after the child was born. Because the couple was forced to answer these questions for their friends and peers, it made them think about how they would handle the situation if it were a reality.
"Our moral values do not support abortion," Hernandez said. "If Cöelis were actually to become pregnant we would give [the child] up for adoption."
Before her big reveal at her presentation, Mendoza said she was concerned about what the reaction would be from her friends. While she was sitting in IC Square, Mendoza's attention shifted mid-sentence to a friend passing by. With a smile, she waved down her close friend, sophomore Kathy Perez.
"She cried when she first found out," Mendoza said.
Perez hurriedly approached Mendoza and sat down next to her. With a sigh, she told her story.
"I walked into my friend's kitchen one night and I saw the back of Cöelis' head. Then I saw her holding a glass of wine. So I yelled her name and she turned around. The belly was gone. She was skinny again. I broke down crying and locked myself in a room for 30 minutes."
Beyond relieved to leave the body suit
behind, Mendoza smiles at the mention of wearing her fitting clothes again. She avoided purchasing maternity clothing because it was too expensive.
Her mother said she could not be any happier with the experiment's outcome.
"She completely exceeded my expectations," Avila said. "I am very proud to be a once-teen mom who raised a daughter that defied the statistics against us."