At 14 years old, Tenzin Choesang said what would be his last words to his parents for more than a decade and set foot on a three-month trek from Tibet to Nepal.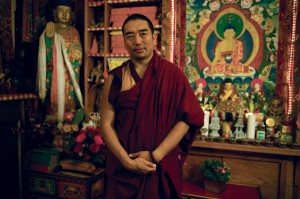 "Our area didn't have any schools, most students my age didn't have an opportunity to study," he said. "I wanted to learn something, but in my area, there was no chance to learn anything, so I decided to escape."
While leaving his family was difficult, Choesang said stories of India and a chance to meet the Dalai Lama drove his decision to get away.
He came across the Namgyal Monastery in India, a Buddhist center constructed by the second Dalai Lama in Tibet in the 16th century that was abandoned in 1959 when the Chinese government caused the
Dalai Lama and 100,000 monks to flee Tibet. Later, the refugees reestablished the monastery in India.
Choesang began the traditional path to becoming a monk: long days of studying scripture and philosophy that began in the morning and ended at 9 p.m., unless a monk was behind in his studies. In that case a day could last until 10:30 p.m.
"When we joined the monastery we had more than 40 or 50 students, so every day was competition," he said. "I really put in too much effort. Sometimes I woke up around 2 o'clock in the morning to start class and memorize scriptures," he said.
After more than two years and two months of intense study, Choesang graduated from the monastery. He wrote his parents a letter to tell them he had become a monk in India; they had lived without communication for more than 10 years. Without a modern postal service, it took that letter about seven months to reach his parents, who were still living in Tibet.
"When they got my letter they said it was like a dream," he said. "My father is really sensitive, very emotional. He was crying. My mother is very tough. She never cried."
Choesang became a teacher at the monastery in India. He said most monks don't have outside connections and Tibetans who live in the country are very poor, so the monastery didn't have television or radio.
"Most of us had a difficult time," Choesang said. "We don't have any parents or relatives; we just focus on our studies."
Before he traveled to the United States, Choesang learned to speak English from a New Zealand native who worked at the monastery. She refused to teach the monks to write in English because, Choesang said, "maybe the monks would write love letters."
Two years ago, the board of directors in India told him it was his time to travel to the Ithaca branch of the monastery to teach
Buddhist philosophy and guide the monastery's members to lead a better life. Choesang is learning to write in English, but promises no love letters are in his future.
Now, Choesang is the head monk of the Namgyal Monastery Institute of Buddhist Studies, the North American seat and personal monastery of the Dalai Lama, located on North Aurora Street in Ithaca.
At the center, he begins each day with an hour of Buddhist practice, leads meditation at Cornell University and then works with the residents who have sought his spiritual advice. A monk's life isn't easy, but he says it's worth it.
"I help people generate more compassion [and] lead a happy life," he said.
Ngawang Dhondup, administrator of the Namgyal Monastery in Ithaca, organizes the teaching schedules for the monastery and plans the monks' days. He left Tibet with his family in 1959 to escape a likely death at the hands of the Chinese government to become a refugee in India. His family left with other Tibetans to preserve the Tibetan culture and traditions. Tibetans living near Ithaca gather at the monastery to keep their home culture alive.
"Right now Tibet is being occupied by the Chinese," he said. "Inside Tibet people are not allowed to speak; there are no human rights. There is no religious freedom. We heard three days back, more than 32 people have been shot by Chinese police."
The monastery serves as a place for people to come together to express their desires for Tibetan independence.
"It is the responsibility of the Tibetan people, who are staying in a free country, to voice their rights so that the world's people — especially the United States' people — can know what is being done by the Chinese government."
Choesang meets with other local spiritual leaders to help find a connection between the faiths. He said promoting religious harmony in Ithaca and working with people outside the Buddhist community is important because it is one of the Dalai Lama's messages.
"If we look closely, there are no big differences between Buddhists, Christians and Muslims. We're the same," Choesang said. "Every religion tells people how to lead a good life, how to care for other human beings."
Amy Spenciner, a student at the monastery, said finding the Buddhist community and monks at Namgyal helped her overcome the stress and emotional distress caused by her career as a social worker specializing in emotionally troubled youth.
"I got kind of a sense of peacefulness, but the way Buddhism works is that you really work with your mind and your thoughts," she said. "It felt very non-judgmental being here, and it felt like what I was looking for."
Dhondup said the mission of the monastery is to educate rather than change peoples' opinions, and everyone is welcome.
"To study at the monastery, one should not be a Buddhist," he said. "It's not important to change your religion. What is good is to study Buddhism and be good to you friends, your community and your neighbors."