Xavier Reyes doesn't consider himself a particularly religious person. But on the day of his audition to the Ithaca College theater department in the spring of 2011, he appealed to a higher power. He needed strength that day.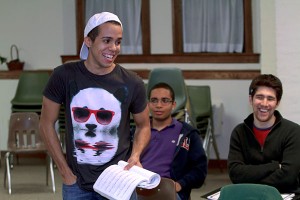 "Que se haga tú voluntad," he whispered to himself. Let your will be done.
He woke up at 4 a.m. without the prompt of any alarm or obligatory morning ringtone. In five hours, Reyes would enter an audition that marked the culmination of months of practice, risk and struggle. A rushed sense of zeal surged through his veins. After stretching out of bed, he turned on some classical music and let it waft through his dimly lit dorm room. Less than five hours to go.
He was getting a second shot at becoming a BFA acting major at the college after being rejected from the program the year before. He first auditioned for the theater department from his home in Guaynabo, Puerto Rico, with a video that he sent off in February 2010.
Despite his rejection from the program, he decided to come to the college and start off as an Integrated Marketing Communications major in the Park School of Communications, working constantly and training so that he could audition again, in person, in the spring.
Time pushed forward. In his mind, the end goal lay in stolid wait amid the gray stone hallways of Dillingham Center, home to the theater department. The most important moment in his pre-professional life was just one monologue, two songs and, hopefully, an acceptance letter away.
Unabashed, he left his dorm after dressing and refreshing. He walked to the nearby music school and into the basement where black upright pianos stood in empty practice rooms. He found a room for himself and started to warm up. Less than three hours to go.
"I was very nervous," he said. "This was the day that would decide my future."
Reyes doesn't like to sing for anyone without having warmed up — even for the slightest bit — well in advance. It's a strong contrast to his normal sense of confidence and playful impulsivity. With a light, airy tone in his tenor voice, he enunciates words to a T and sings while extending his arms, a gesture of emotive expression.
The day of his formal audition was perhaps the first time in his young adult life that the cheery, bright-eyed Reyes had no understanding of what would happen if things didn't go the way he wanted them to. Home, for him, was too far away to fall back on.
Born in San Juan to Orlando Reyes and Belia Morales, Reyes went to the Wesleyan Academy in Guaynabo, an American school on the island where he learned English as a second language from a young age. He's fluent now, but at times speaks Spanish to say some things he cannot express in English. He remembers the beaches of his hometown, sand sifting between his toes as he would sit reading copies of American Theater magazine.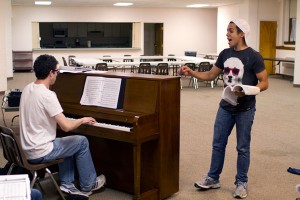 "People think of Puerto Rico as being this paradise, which it is, but it's also a normal place. It's like, how can I say, the houses are made of concrete. It smells like nature," he said. "Aire fresco, palmas, un ambiente de genuinidad y alegria." Fresh air, palms and a genuine atmosphere and happiness.
His first experience applying to schools in the United States was defined by Google searches and troughs of uncharted territory. His parents bought an anthology of American colleges for Reyes to look through in hopes of finding one that resonated.
Reyes searched through cast bios of Broadway performers to find where the best of the best went to school. Desiring a more stable career for their son, Reyes' parents didn't know the first place to look for a college to cultivate their son's talent and passion for the performing arts.
He applied to several, including Carnegie Mellon University, New York University and Marymount Manhattan College. He was wait-listed at Carnegie and accepted to Marymount. But Ithaca was his dream. He had only seen photos online, but craved the serene area and wanted to experience the atmosphere of the campus. He loved the professors and the structure of the theater program.
"I felt the training here was what I was looking for," he said. "I fell in love with the campus, and the town was separated from the mayhem of a place like New York City."
All his parents knew was that he needed to leave Puerto Rico to fulfill his dreams.
"With the state of the economy, there is nothing in Puerto Rico," his mother, Belia, said. "But he always said 'Mami a mi me gusta el teatro.'" Mom, I like the theater.
Reyes' father, Orlando, would take his son to see plays when he was still in the equivalent of American grade school. One play in Puerto Rico, "De Belén al Calvario," captivated Reyes when he saw it — the movement, the staging, the expression. From then on, Orlando said, his son was set on being an actor.
"For me it's something extraordinary," Orlando said. "I have tears in my eyes when I see him because he lives for that. Every part he is given, he lives it. I get very excited, even as I talk about it now."
During his time as a non-theater major, Reyes enrolled in classes to prepare himself for this next audition. He took an acting class, an introduction to ballet course and private vocal lessons alongside the communications courses he was obligated to take to maintain his guise as an IMC major.
One day that fall semester, Reyes was being let out of his acting class in the basement of Dillingham. He leapt up from the floor of the acting studio, slung his messenger bag over his shoulder, adjusted it and stopped Judy Levitt, a theater arts professor, on the way out of class. He talked to her about a scene he performed earlier. He was looking for ways he could do it better next time.
"Just remember to relax," she said. "Relax."
He left the room through the double doors and started down the hallway, away from the acting studio. He was in no way relaxed. At 5'7'', he took quick, deliberate steps that set him at the pace of a taller basketball player.
"I know I want to be an actor," he said. "I will be an actor."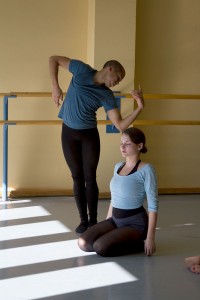 His brown skin was a bit lighter from the cold, but he held an almost fervent look of determination. His Spanish accent comes through a little more when he talks faster, and he was definitely talking faster then.
"I want to be an actor," he said again. "If I'm not going to get to do it here, I'm going to learn to do it somewhere."
Sophomore musical theater major Kathryn Allison, one of Reyes' closest friends at the college, knows his determination firsthand.
"If I could describe Xavier in one word, it'd be 'driven,'" she said. "When I first met him, he said 'I want to audition for the BFA program.' Every time he was telling me he was contacting this person and this person and getting lessons from here and there, I would think, 'Wow, this is one driven person.'"
It would have been typical to see Reyes rushing across campus from Dillingham, books in hand, his signature black beanie bouncing loosely on his head with the hop in his buoyant walk as he darted from a private voice lesson to a communications class.
The day of his audition in the spring was no different, except he walked to Dillingham with no books in hand — no black beanie. He instead donned a green Banana Republic sweater, black pants and shined black shoes, ready to perform.
He stepped through the side doors of the Hoerner Theatre, the main theater in Dillingham, and saw an auditorium full of unfamiliar faces. Prospective students from high schools across the country buzzed with liveliness and apprehension.
Upperclassmen — some of them Reyes' peers — ushered students down into the basement studios where Lee Byron, chair of the theater department, and Susannah Berryman, associate professor of theater arts, listened to auditions from the hopefuls.
Before he knew it, it was his turn.
He was brought to the center of a dancing studio lined with mirrors on one wall and ceiling-to-floor windows on the other. Byron sat at the opposite end of the room. Reyes sang "A Miracle Would Happen" from the musical "The Last Five Years" for Byron and, in another room, performed a set of monologues, including one from "Equus," for Berryman.
"And then I was done," he said.
Now, the wait.
A letter came to Reyes' dorm a few weeks later. He found it in a small stack of mail that his roommate brought back. He took it, left his room and walked away to open it. If he didn't get in, he said, he didn't want anyone to see the reaction. But if he did, he would be too ecstatic for most human beings to find even remotely appropriate. He opened the letter.
In the fall of 2011, he would be a member of the 2015 freshman BFA acting class at Ithaca College.
Cue latter reaction.
"I have a future now," he said. "It's like seeing the light at the end of the cave that will lead you to follow your dreams. You feel so happy that there's a purpose in your life."
When the theater department had its first meeting of the semester this year in the Hoerner Theatre, Reyes, along with the rest of the freshman class of theater students, introduced themselves to the entire department. Many knew of his journey to becoming an acting major and before Reyes finished saying his last name, almost the entire department was on its feet applauding. He had finally made it.
Now Reyes has four years of intensive theater training ahead of him. He's already been cast as Angel, a drag queen suffering from AIDS, in the Melodramatics Theater Company production of "Rent," the Pulitzer Prize-winning rock opera by Jonathan Larson about artists struggling to live in New York City amid the upsurge of the virus.
"I encourage people to fight for what you want," Reyes said. "People would look at me and say 'This kid from Puerto Rico, what is he doing here?' People would hear me speak and ask 'Oh, you're a BFA?' And I'd say 'Yes, I am. I may not have perfect English, but I am.' No one has the capacity to dictate your future but you."
Cornell senior Tim Dyster, who is directing "Rent," said Reyes brings a fresh perspective and energy to the production. When Reyes auditioned for the role, Dyster said he knew he was the best choice.
"Everything we were looking for we got from him on his first round of auditions," Dyster said. "He was confident. He had a voice like an angel. We all had the same reaction: Our actor who would play Angel had been dropped from heaven."
Some interviews for this piece were conducted in Spanish and translated by Assistant News Editor Elma Gonzalez.