Though Diego Torrado is only 12 years old, he's already hanging out with college students on the weekends.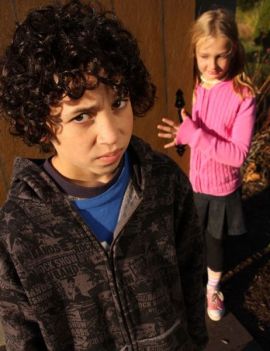 When he's not busy playing tag at recess or learning how to divide fractions, Diego is pursuing an acting career. The Boynton Middle School 7th-grader has been in seven Ithaca College student films so far.
He said he originally started acting because people said he was a natural-born actor.
"One day I just decided that I wanted to be an actor," he said. "I don't know why. I just thought it was because I did a lot of school plays, and everyone really liked me. Everyone said I'm really good at acting."
After his first main role, Diego said he was hooked.
"I realized how much more fun it is to make movies than [to] be in plays," he said. "So I decided to do as many as I could."
Every year Ithaca College invites community members to audition for future student films. More than 100 films are shot each semester by students. The auditions are taped and open for directors to look at when writing their scripts. Junior Brad Collins found Diego's tape and said Diego was exactly what he pictured for the main character of his film "Dream," set in the imagination of a young boy.
"He was great," Collins said. "It wasn't hard for him to get into character. He enjoyed our sets that we built, and he kind of just ran around."
Diego said "Dream" was his favorite film to work on because of the props.
"I got to knock down a bunch of boxes, and I got to walk through cardboard buildings as if they were real," Diego said. "[I] got to walk through clouds, and I got to become a superhero. It was really cool."
Senior Victoria Chenoweth is working on her senior thesis project with Diego. Chenoweth and senior Mike Citera are collaborating to produce "The State of Mind … ."
Chenoweth said having children on set makes the atmosphere more enjoyable.
"Everything is definitely a lot funnier," she said. "You have to try to get your college student crew to not curse, but they're little boys, and they've heard most of it already. They curse more than you do sometimes."
Being a child actor has its downsides, though. Diego's mother, Andrea, said sometimes the shoots go late and her son ends up doing his homework on breaks from shooting. Also, she said she has learned to read the scripts more carefully after she saw her son take a sip from a bottle of alcohol in one of the films. Though it was only water, she said she thought it was a little inappropriate. Diego said he didn't see a problem with it.
"It was weird," he said. "I could taste the residue. It tasted like a lollipop. My parents weren't happy about it at all. I cracked up every time I [watched] me doing that."
Eleven-year-old Jackson "Jax" Quinn Gray has been acting since he was 5 years old. He starred in "The State of Mind … " with Diego and currently is starring in senior Nick Santos' "Kiddo."
Jax said his favorite part of being in student films is becoming friends with the students he works with.
"For some reason I call [Santos] 'Andopolis,'" Jax said. "I give everyone nicknames in the crew."
Santos said he has a great relationship with Jax and hangs out with him off set.
"I took him to see 'Where the Wild Things Are,'" Santos said. "I think of him now as my little 11-year-old friend."
Santos said having Jax on set makes the atmosphere happier but filming takes longer.
"I didn't realize we were going to have to go at a slower pace when we're shooting scenes because [Jax] is a little kid so he does get sidetracked by little things," Santos said.
In a scene in "Kiddo," Jax has to kiss an older girl on the lips. Santos said he was worried it would take Jax a few times to get comfortable with it.
"I took him aside thinking he was going to be really nervous about this," Santos said. "I asked, 'Have you ever kissed a girl?' and he said, 'Does my mom and my sister count?'"
Ten-year-old Lucy Randl also has a role in "The State of Mind … ." The 5th-grader from Fall Creek Elementary School became interested in acting after performing in school plays and attending Hangar Theatre camp last summer. Lucy said her favorite part of acting is pretending to be another character.
"You get to be whoever you want to be," she said. "You get to make up your character in some ways, and you get to be somebody that you actually aren't in real life."
Lucy said this is her first real role in a student film. She said she has become friends with the cast and crew of the film, including Diego and Jax.
"When we're actually filming, it's really serious," Lucy said. "When we're not filming — when we're taking breaks — the atmosphere is just really fun."
Unlike the boys, Lucy said she sees acting as just a hobby and does not intend to pursue it as a career in any way.
"I might be like a photographer or a judge on the Supreme Court," she said.
Diego's mother said she believes this is the right career path for her son.
"[Film] has been his medium because it's a short rehearsal," she said. "He can get right on and be spontaneous. He's just naturally a clown."
Diego said his experience working on student films helped him get a part in an independent short film directed and written by Becky Lane, an Ithaca resident. The film is being entered into film festivals all over the U.S., including the Sundance Film Festival. Diego was the only child on set, but Lane said he held his own next to the professionals.
"If you talk to a lot of directors I would imagine that one word that would come up again and again is that he's really honest," Lane said. "He doesn't really force things to happen. He's in the moment, which is really great. He's able to relax in front of the camera and just feel what's happening, not just deliver lines."
Collins said he thinks having children on set boosts the morale of the cast and crew.
"Film sets are so emotionally draining, and by the end of the set usually everyone just wants to go home and sleep, but Diego never ran out of energy," Collins said.
Diego shows no signs of slowing down. He said he wants to continue acting and make it into a career. But he's not in it for the fame.
"I don't really care if I'm a celebrity or not," Diego said. "I just want to be in films."