Under the flashing lights of Amsterdam's Red Light District, two friends unwittingly begin a love triangle that will change their lives. Boundaries blur in "Red Light Winter," Adam Rapp's passionate play currently showing at the Kitchen
Theatre Company.
Long-time pals Davis (Jesse Bush) and Matt (Eric Gilde) are both writers. Davis is an on-the-rise, self-centered editor who constantly teases and annoys his college buddy Matt, a brilliant but struggling playwright. But when Christina (Ellen Adair), an actress-turned-prostitute, enters their lives one night during a boys' adventure through Europe, everyone loses their control of language — and their senses.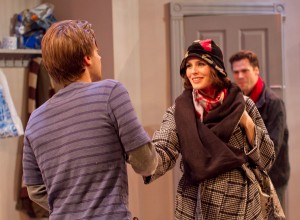 Bush initially comes off as trying too hard in his role as Davis, but it then surfaces that his character actually is that rambunctious, obnoxious and rude. He captures every inch of Davis' complex character through his strong voice and decisive physical articulations. He nails every hilarious one-liner, reminiscent of a young Will Ferrell.
The characters continue to develop when Davis meets the alluring yet familiar Christina, who he finds has some secrets. He purchases her services for Matt, who's been out of luck with the ladies for a long while. But, in the first of many illustrations of his nauseatingly egotistical behavior, he has Christina pleasure him first — three times.
Christina is reserved, but vaguely flirtatious. Adair employs a seductive, convincing French accent. There is one off moment when she acts completely sober despite smoking a joint and exclaiming that she is "very high," but for the most part, she is tempting and striking in the first act. Her alluring nature is especially showcased as she sings to the boys wearing a low-cut, long and flowing red dress, an extravagant costume in the show designed by Kitchen regular Lisa Boquist.
When she reappears in the second act back in the United States, Adair drops the accent for a beautifully full Mid-Atlantic voice. Her tense air and diminutive motions exhibit Christina's emotional fragility and weakness.
The ensemble is believable as a web of lovers because each actor has developed a distinct character. They are independent in personality, but intermingled in desire.
The last side of the triangle, Matt, is a charmingly awkward man. At times a little too inept, he still wins over everyone but Christina with his smile, sensitivity and enthusiasm. Gilde's inhibited actions and major vocal variety display his character's desire for normality. But while his character struggles with depression and complains about wanting to leave his own head, neither the trauma nor dismay show in his performance.
"Red Light Winter" is a deftly executed example of the high-quality productions the Kitchen is known for. Director Rachel Lampert showcases her artistic strength and passion developed from decades of experiences in theater and dance. Her actors bring the story alive in a captivating way only found in live theater and punctuate tense situations with carefully drawn movements. The multiple instances of on-stage drug use, nudity and sex are tastefully done and productive for the plot.
The two acts take place in a cozy hotel room in Amsterdam and Matt's painfully small New York City apartment. The set by Kent Goetz cools down the intensity of the play with its simplicity in clean lines and calm colors. Excellent touches like the flashing neon lights outside the hotel window, by lighting designer Michael Kalmanowitz, and the constant flutter of the apartment's curtain add the presence of the outside world to an all-interior story.
At two and a half hours, "Red Light Winter" is longer than the Kitchen's usual fare. But filled with plenty of sex and references to literature, theater and film, this play appeals to a larger audience. The Kitchen brings the mystique of Amsterdam and the harsh reality of New York City to Ithaca in this mixed-up, bittersweet show.