The lights were too bright for Victor Rosa to see all the people in the crowd, but he could hear them.
He stepped with the beat to keep track of the rhythm, dancing from side to side. It was part of the performance, just like the black suits he and his bandmates wore to every show. His palms pounded on the bongo drum propped in front of him. He had to keep reminding himself to keep the beat. Back and forth. Left, then right.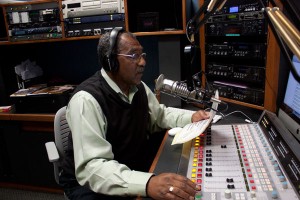 He can still remember playing that night — his first big concert. He had been drumming for a neighborhood band in the South Bronx and hitting up nightclubs in the Tri-State area. They were asked to play at Teatro Puerto Rico, the Latin-American equivalent of the Apollo Theater in Harlem. All the big-name bands played there. It was back in the '60s "when salsa was salsa," he said.
He was a tall, fit guy at the time, but had the same wide smile. He jokes that those suits made them look more like undertakers than musicians.
Shaking with laughter, he remembers how excited he got when one girl in the audience called out to him, pointing, "I like the drummer!" He was so excited that he forgot to keep time with his stepping.
"Thinking about it, I goofed up on the rhythm," he said. "I lost the rhythm, I lost the stepping."
He sighs.
"Yeah, that was pretty cool … "
Rosa parks a truck carrying a massive tank of water beside the Ithaca College entrance. It's the one he uses when he needs to water the flowers. A pump connected to a hose noisily sputters. Classic Motown tunes blare from an open door. It's a sunny fall day, and Rosa is smiling, directing a stream of water so that it falls gently on a bed of freshly planted mums. The petals dance. His mind is quiet.
"Before it was constant noise," Rosa said. "Music way up loud, well, I was a musician, so — but quieting the mind, it has a spiritual effect on the soul."
Rosa's dark, curly hair is peppered with white and is beginning to thin on top. He has a bit of a belly, which he's determined to keep under control, even if that means only packing half a sandwich for lunch. Bifocals rest on his nose and make his eyes look like they're popping out of his head when he gets excited about something, which is often when he talks about the old late-night jam sessions and bustling night clubs. Rosa still sometimes wonders how far he could have gone had he kept performing. He wonders where he would have been today. But the memories are built on nostalgia, not regret. At 62, Rosa has moved on.
"Growing up, you're into one thing, but as you get older there's a lot of things you grow out of," he said. "Who knows where I would have been now, but you move on, ya know?"
The transition wasn't necessarily easy. When Rosa moved to Ithaca in 1997 and got a job as a groundskeeper at the college, he didn't even know what it meant to mow the lawn. He moved from the city to reunite with his daughter, Joanne, who had been living in Ithaca since she was 10 years old. Joanne was in high school when Rosa moved to Ithaca, and he had to keep reminding himself he was here to raise her. Ithaca's dark, silent nights took some getting used to.
"For a while I was going crazy," he said. "I was getting anxiety attacks and everything. I went to visit the city and I stayed at my sister's house. I slept in the bed next to the window and I could hear the noise outside. I said 'Ah, I'm home.'"
Fourteen years later, Rosa is still making trips to the city. He misses the music the most. Every morning he reads the Daily News to keep up with free shows in the parks and at his favorite clubs. It's a hobby for Rosa, but it's also research.
Rosa has been a DJ for WICB's Ritmo Latino, or "Latin Rhythm," program since 1999. Every Saturday night at 10 'til 6, he strolls into the studio rolling a carry-on suitcase full of CDs, a sampling of the collection that occupies a full wall of shelving in his music room at home. It's the stuff he's been collecting since he moved from the Village to the South Bronx when he was 16 years old. That was when Rosa heard drummers in the park for the first time. It was the beginning of his relationship to music, a relationship that would only grow with time.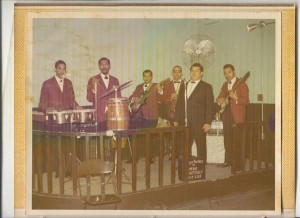 Falling into the position at WICB was an accident, an unexpected result of the same sort of attentiveness that endears people to Rosa — the surprise birthday cakes he brings for coworkers or the Latin-American dinners he cooks for his wife every Monday night. When Rosa found out from another groundskeeper that there was a salsa program on WICB, he offered to share his extensive music collection. He started hanging around the studio and soon "DJ Vic" was born.
Rosa heaves his suitcase onto the desk and begins to create neat stacks of CDs around him. These are his picks for the show. He opens one case and cleans the CD with his vest before inserting it into the stereo system at his left. His hands don't glide over the keys of the soundboard as much as they fumble, making guesses at which dial ought to be shifted or turned. Usually he's right. When he's not, he chuckles and shrugs.
The first couple of minutes in the studio are always a scramble. After a while Rosa starts to relax, tapping to the beat on the desk in front of him. Even today, Rosa listens for the beat when he hears a new track. The Spanish lyrics don't connect him to his Puerto Rican roots as much as the drums. He understands the patterns and repetitions. The beat is a language, and Rosa is a native speaker.
Students who know Rosa call him "Vic" and make sure to wave when they see him around planting daffodils or sweeping the stairs by the library. His friendly and approachable manner has made him the star of at least three student films. Rosa gets a kick out of things like that. It sometimes seems like he'll do anything to make someone smile. He likes taking his wife, Terry, to concerts in New York City or to the movies on Sunday afternoon. For their honeymoon, Rosa convinced her to get on a plane for the first time and let her squeeze his arm the entire flight to Puerto Rico.
"I certainly lived a lot more life than I did before I met him," Terry said. "I just was a very quiet country girl from Ithaca."
It's Saturday, and Rosa walks into the WICB studio wearing shiny black shoes, a green sweater vest and nice slacks. After the show, he drives to Binghamton to take Terry salsa dancing. He doesn't dance as much as he used to. His knee gives him problems, so he has to hold off on the "fancy stepping."
Rosa always loved music. He turned over oatmeal cans and played on them when he was a kid. When he walked through the house, he'd bang on the walls.
"Of course, I didn't know what I was doing yet," he laughs.
Tommy Avilez, one of Rosa's childhood companions, remembers how his friend used to DJ neighborhood dances at the community center back in the Village. Avilez recalls how when Rosa flipped on "He's So Fine" by The Chiffons, the two argued over which one of them The Chiffons were singing about. It wasn't much later that Rosa was introduced to the drums and began performing regularly in nightclubs with his band. Still, he didn't realize the healing power of music until he came up against a wall of hardships some years later. The music is what brought him back from these painful situations.
Rosa married young in his senior year of high school. The woman he was dating got pregnant, and he dropped out to get a job. He wanted to do the right thing. Rosa never met his own father, and he was determined to be there for his kids. That's the idea that kept him around long after his wife got caught up in the drugs-and-partying scene. By the time they split up, Rosa and his ex-wife had three sons together.
"Me and the mother of my boys was going through something," Rosa said. "I was hurt, really hurt. I was driving down Broadway in the uptown sections, and there's a median in the middle where they got benches. I heard a jam session going right in the middle so I pulled over."
Rosa asked one of the drummers if he could play. He pounded on the drums until he couldn't feel anymore.
"When I finished playing, I was a different person," he said. "It revived my spirit. It revived my soul. That's why I say music is food for the soul. Ever since then, I know the true meaning of music and how it embraces my life."
It wouldn't be the last time Rosa navigated his way out of a difficult situation with music. Many more hardships would follow him to Ithaca. Avilez said he has seen Rosa through most of them and believes his friend has finally found the peace he'd been searching for in Ithaca, even if it took some getting used to.
"In the city you have to have, not a rough, but a gruff exterior and display that so people don't come and step on your toes," Avilez said. "But up in Ithaca he found that he can relax and enjoy life with no problems."
The rhythm of the city resonates in Rosa's deep, syrupy voice. It's easy to hear the drums when he speaks — it's the cadence of a minister and the practiced confidence of a talk show host combined. It makes him a natural for radio. His voice is the kind people recognize while they're standing in line behind him at the grocery store.
Getting noticed never fails to make Rosa excited. Even though he has won two recognition awards from Tiffany Records for Ritmo Latino and is always met with cheers at WICB's end-of-the-year banquet, Rosa still sometimes worries nobody is listening.
He said he likes to share his music with residents of Ithaca and the surrounding areas because it's less likely that they will be exposed to Latin music.
"I want to give them an awareness of this music," Rosa said. "As a matter of fact, this is the only Latin radio show of its kind around all of central New York."
He takes the responsibility seriously. Every CD in his collection is tagged with a Post-It note to label it more suitable for radio or dancing. Rosa plays the dancing songs at Oasis Dance Club every other Tuesday night, where he DJs for Noche Latina.
The scene at Oasis is nothing like the salsa clubs in the Bronx where Rosa used to play. Several couples casually twirl each other on the wooden dance floor. The women's high heels make clacking noises to the beat of the song. Rosa watches from a glass window that looks out from the DJ booth.
"That one over there loves the cha-cha," he laughs.
Rosa throws a song with a heavy cha-cha beat in the CD player. The dance floor explodes. "One, two, cha cha cha!" One woman throws her arms into the air and twirls, shaking her hips to the beat. Rosa smiles.