It's angel Samael Morningstar's job to care for all of the living things inside the Garden of Eden. One day he realizes the garden's most famous inhabitants, Adam and Eve, are missing a piece of what it means to be truly human. In attempt to help the two, Morningstar is forced to choose between following his instincts and doing what he's told.
The entire story, told in Michael Watson's senior film thesis "To Fall and Be Free," thrives in a universe created through a transmedia narrative, the first of its kind at Ithaca College.
Transmedia narratives tell a single, sometimes expanded, story across multiple media and platforms. Essentially, transmedia storytelling is used to grow a story's universe. Elisabeth Nonas, associate professor of cinema, photography and media arts, said this can involve films, comic books, video games and anything that can expand the story or character's for an audience.
"Basically, it's a way to access a story world from different points and have them all make sense," Nonas said. "I can read the novels and never go to the movie and still enjoy that world."
Watson initially learned about transmedia storytelling from a class taught last year by Nonas called "Story Telling: From Cave Paintings to Emerging Media." Though the class is not primarily about transmedia, she touched on some of the basic ideas behind it.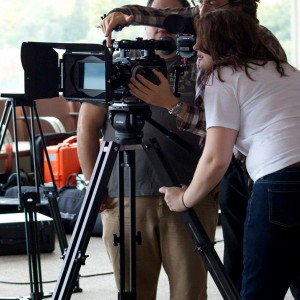 "I learned a lot about transmedia there, and that's kind of what spurred my interest in it," Watson said. "A good transmedia world is almost like an infinite story generator, where you create a world that can spawn different characters and stories."
Senior Nick Ljubicich served as the transmedia producer for Watson's project. He said the way they utilized transmedia in "To Fall and Be Free" both expands the timeline of the story and the cast of characters in the website, film and webcomic.
"The transmedia that we're doing, it takes place after the movie," Ljubicich said. "More than it would if the transmedia were to take place at the same time as the movie, it expands the story more. It expands the universe."
Chronologically, the story begins with the film itself. It follows Samael Morningstar, an angel in heaven working a desk job. Morningstar grows tired of the bureaucracy involved in his job in heaven, so, Watson said, he goes rogue.
Following the film's arc, the website called pandeminc.com continues Morningstar's story in the present day, Watson said. The website tells the visitors that since the time portrayed in the film, Morningstar has started his own rivaling company from heaven called Pan-Dem.
Watson said he drew his inspiration from John Milton's epic poem, "Paradise Lost," which chronicles Satan's fall from grace. Morningstar's storyline mirrors Satan's, Watson said, as the name "Morningstar"comes from a modern day translation for Satan. The idea to set the film in an office came from Watson's summer internship, a desk job where he said he felt confined.
"I don't know why it clicked all of a sudden … Paradise Lost but set in an office," Watson said. "I don't know where that came from I guess, but it just seemed right."
Watson called on Ljubicich, a long-time friend, and Julianne Cort '12, his girlfriend who graduated last year, to produce the film. Watson said the three of them have collaborated in some capacity on films before, so he knew that they would be able to work together effectively. What none of them knew, however, was exactly how to do a transmedia project. This forced them all to pull from different skill sets.
"Whenever you do something new, you're not really sure what to expect," Cort said. "I've never made my own website before — that was something I was unfamiliar with — and [Ljubicich] has been a huge help in that aspect."
Watson's initial ideas for the transmedia aspect of the project were different from what he ended up doing. He said he wanted to use iPhone apps and have location-based streaming videos. For instance, there would be a different video or aspect of the story available depending on which building of the college the user was in.
"I ended up nixing the whole location-based streaming stuff for the website, because I felt that, for transmedia to work, you have to be able to easily access all the different parts of it," Watson said.
The group settled on two transmedia expansions of the film — a website for Morningstar's company, called Pan-Dem Inc, and a webcomic.
Watson first thought of the website as a kind of hub for the film and the webcomic, but he later found it to be a storytelling tool that revealed more about the company than was touched on in the film.
"The website actually ended up really being fun to write for and ended up expanding the story world," Watson said. "It kind of fills the gap between what happened in the film and what happened in the present day, a little in a vague way, but you can kind of infer what happened."
The group called on Caroline Percello, a high school friend of Ljubicich's, to illustrate. Watson found the webcomic to be the most challenging aspect of the project.
"I can write a script, I can write a short story, but a webcomic is like you have three to five panels to tell a story and have a punch line," he said. "I can either tell a punchline or I can tell a story, and I had a really hard time doing both."
Despite this, Watson said he found writing the webcomic was one of the most enjoyable components of the project. Thinking of a character and then seeing it drawn out and truly visualized, he said, was extremely satisfying.
Watson plans to release 10 webcomics, one per week for 10 weeks. The group sees this as a potential way to let the audience participate in the story.
"Our goal is to eventually have people who are following us submit their own artwork, and then we'll continue it from there," Cort said.
For now, the audience can participate in the story by applying for a "job" at Pan-Dem Inc., through the website, to create a fan community around the story.
"We want a community," Ljubicich said. "That's the best case scenario — we get a lively community that cares about the story world."
At first, Watson had doubts about his ability to complete the thesis. Now, as the project nears completion, he feels that he has succeeded.
"I was not sure from the get-go that I would be able to do a transmedia thesis and have each part be worthwhile and good, and they definitely are, in their own right, individually very interesting," Watson said. "As a whole, they all kind of color your idea of the world."
"To Fall and be Free" will screen at 6 p.m. Dec. 15 in the Park Auditorium.