A girl spirals around a golden pole upside down as she holds on with one hand. She brings herself to the ground and crawls toward a grinning middle-aged man. She stretches her leg onto the man's shoulder, slaps her thigh and lifts her garter. The man places a single dollar in it with a smile.
While this typical strip club scene reads like a Hollywood creation, for some Ithaca College students, it's a reality.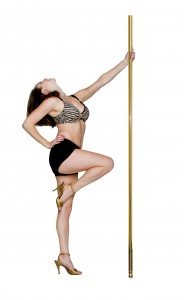 This is just an average night for juniors Dirty Dallas* and Sugar Cookie*. They joined Kuma Charmers, the strip club in Ithaca in October to supplement their incomes after struggling to pay school, apartment and health bills.
Any given day, Cookie might wear jeans, a T-shirt and glasses to her Biology class, but twice a week, she sports a seductive G-string and sexy garter to match. Walking around campus, she gives no clue of her stripper nightlife.
Her debt comes from expensive medical bills. Initially, she worked as a tutor at the college, but needed to find a second job to supplement her income.
Dallas also searched for a job, but could not find one with enough income to pay for all her school loans. She thought Kuma's would be the answer to her many financial problems.
The outside is painted in a faded gray and red. The place, located just off Route 79, is desolate. A marquee listing the rules — no drugs, no refunds and no assholes — stands next to a single red door.  Dallas said she was skeptical about the place when she first saw it.
"It's kind of rundown," she said. "It's in the middle of nowhere. The bouncers walk us up to our cars each night."
Inside, the light is strategically dimmed to place focus on the stage, where disco lights illuminate the naked girls dancing to the beat.  Chairs are arranged surrounding the stage for club patrons to sit and enjoy the show. At first, Dallas felt intimidated by the stage.
"I can't even read in front of people so I [didn't] even know how I [was] going to be naked in front of people," she said. "It's kind of given me some confidence — I'm not going to lie."
Even now, they both have to mentally prepare before performing. Cookie worries she might fall and hurt herself because of problems with her joints, so she tries to block the moment out and focus on the task at hand. For Dallas, pre-stage worries are more trivial.
"I hope that I look OK, I hope that everything is in place, everything is clean down below," she said.
Despite it being a bit overwhelming, stage dancing has become the most enjoyable part of the job for her.
"We've learned some pretty sick pole tricks," Dallas joked.
During the first-day tutorial, the girls are told not to think of themselves as strippers, but "Charmers," like the club's name. Callie Jo Oliver, the wife of the club's owner, said for each tryout, only the girls with the best personality are kept.
"Everyone knows what a stripper is stereotyped as," she said. "We try to keep those type of people out of here."
The girls said the late-night hours they spend at the club don't affect their academics at school. Strippers are able to choose how many times per week they work.
Yet, the stigmas associated with their craft pose a potential threat to their social lives, so they are determined to keep their jobs confidential.
The girls get 50 percent of each private dance fee, plus whatever they make in tips. On average, they make $200 to $300 every night. For just $20, customers can take any girl to a private booth and have her dance and strip for them.
It's something of a clean deal. Clients can touch the girls everywhere, except the vagina.
Dallas said the private dances are always the most awkward part of the job.
"We straddle them, grind on them, put our butts in their faces, put our boobs in their faces," Dallas said. "Some guys do weird stuff with your nipples and you are like 'What the f*** are you doing with my nipple? Jesus Christ!'"
Club owner Bob Oliver said this is where having a "good personality" comes in handy. Girls with good looks don't necessarily do best.
"The best talkers are the ones who do the best, so it's more of communicator skills that count," he said.
Cookie said the most important thing is to "make the guy feel special," like it's "all about them." Older men come in and casually sit by the stage. Their faces are serious and nonchalant as if seeing nude, teasing dancers is an everyday event.
Younger customers show more excitement. They smile, joke and "act cocky" when sitting by the stage, Dallas said.
"They have a poker face. As soon as you get them in a dance — oh my God — they are like shaking," she said, making faces and breathing heavily to imitate them. "It's hilarious."
Bob said the club is a family owned business. He tries to maintain a safe environment for everyone who works there.
Originally, the club was a nightclub and bar when he opened it in 1981. Eventually, Bob decided to switch entirely to fully nude dancers and stop serving alcohol to abide to a New York law that prohibits serving alcohol in any nude establishment.
Kuma's work environment is surprisingly ordinary despite its provocative constitution. Dallas said all the workers know each other's real names and have developed close relationships.
Except for their roommates and a few close friends, no one else at the college knows their whereabouts from 7:30 p.m. to 1 a.m. on the nights they work.
Dallas' roommate was in the room when she confessed what her part-time job is to her mother. She was very surprised her mom was so supportive.
"She was like, 'Well you need the money so you have to do what you have to do,'" the roommate recalls. "'Just don't put yourself in a situation that you don't want to be in.'"
The only person Dallas hesitated to tell was her boyfriend. He said his initial reaction was shock. He was worried about the risks and the stigma that came with the job and it took him about three to four weeks to fully digest the news.
He tries to be supportive, but Dallas said she still feels he is uncomfortable with it sometimes.
"When I get back, I try to immediately take a shower because I know that he is grossed out by that," she said.
He said he is glad she did not hide her situation from him, and he feels they have not lost the connection that brought them together last May when they began dating.
"It adds a new dynamic to it," he said.
Cookie has not been able to confess her secret to any family member. Reactions from some friends discourage her from doing so.
"I'm comfortable when I'm there. I feel uncomfortable talking to other people about it sometimes because they don't understand the situation," Cookie said. "You just feel like you've done something that you are not supposed to."
While stripping pays the bills for these students, they said the job has come to mean more than just the money.
"I've also gained a better idea of my sexuality," Dallas said. "[I'm] a little more confident in who I am and what I'm doing, and definitely a lot more confident with my body, too."
*Alternate stage names were used, or names were excluded, to protect anonymity.