Vietnam veteran Jim Murphy, an Ithaca resident, hoes the soil of a garden. He then presses small peas into the ground. Another volunteer walks through the rows of tilled soil, watering the freshly planted seeds, talking with other volunteers about war documentaries and gardening techniques as a contribution to the Veterans' Sanctuary's Call to Farms program, an organization that provides ways for war veterans to cope with post-traumatic stress disorder.
When Murphy returned from the war in 1969, PTSD was not yet a widely recognized psychological disorder in veterans, though many returning soldiers were exhibiting symptoms of PTSD.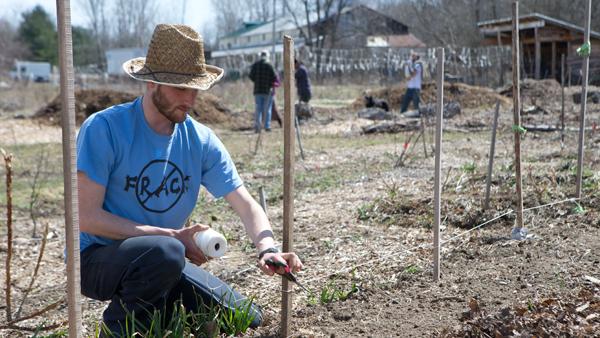 Now, PTSD is recognized as one of the most serious and growing problems U.S. veterans face. According to the PTSD Foundation of America, less than 40 percent of soldiers diagnosed will seek help, and in 2009, 245 veterans committed suicide.
Murphy said the VA programs help because they offer a relaxed setting with people who have had similar experiences.
"The only real help for PTSD lies in the fact that you have friends that you can go to and talk with that have had a similar experience," Murphy said.
The Ithaca Veterans' Sanctuary provides programs to help support returning veterans, particularly those with PTSD. The Sanctuary has three main programs: Call to Farms, a garden for veterans and civilian members of the community to plant food and flowers; Combat Paper Art Studio, where veterans turn their combat shirts into paper and art; and the Warrior Writers Project, where veterans are free to write about their combat experiences in an open and understanding environment.
Senior Hannah Antonson has been volunteering with the Veterans' Sanctuary as a requirement for an anthropology class taught by Jennifer Muller, assistant professor of anthropology, called The Biology of Poverty. Antonson said she was moved to volunteer her time helping veterans after hearing the PTSD and suicide rates for veterans returning from Iraq and Afghanistan.
"PTSD is extremely common," Antonson said. "The suicide rate for veterans is higher than the amount of veterans killed in combat, so it's an extremely pressing issue. The Veterans' Sanctuary is doing a really amazing job of helping veterans readjust to civilian life after returning from war."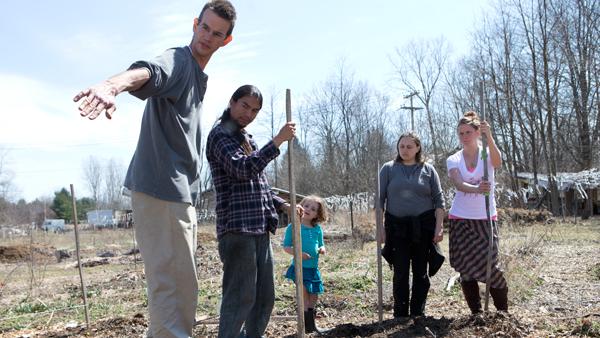 Harry Pruyne, an Ithaca resident and a non-combat veteran from 1996 to 1999, has been working at the Sanctuary for more than a year. He said finding the Sanctuary helped him, because he was able to find camaraderie.
"I moved to Ithaca a year ago and was just looking for veterans and a community," Pruyne said. " It's important for veteran's programs and people to be looking deeper than the surface and … they're looking at growing food and looking past fossil fuels and things like that, because those kinds of things lead to war, and to conflict."
Andrea Levine '09, who does community and veteran outreach, has been involved with the Sanctuary since 2009, when she was a senior at Ithaca College. She said the Call to Farms garden allows veterans to learn about and grow healthy, organic food and possibly create medicine.
"For the farm, we're really interested in healthy food for all," Levine said. "Access and money are barriers for healthy food, so we kind of dream of healthy, organic food and herbal medicine being available for anyone that wants it."
In addition to giving veterans access to organic vegetables, Murphy said the farm gives veterans a relaxed and productive place to connect. He and Nate Lewis, an Iraq veteran and Combat Paper Art Studio coordinator, have been working to increase veteran involvement in the garden by bringing groups of veterans down from the VA Medical Center in Syracuse to work on the garden.
"We'll work with addiction groups and emotional groups, people [with] PTSD and they'll come down and get dirty for the day and hang out and get some sunshine and do some work," Murphy said. "It's really good therapy. It's been really good for everybody that's worked there."
The Combat Paper Art Studio goes hand in hand with the writing program, Levine said. For this program, veterans create paper out of their combat fatigue shirts. The process involves shredding up the shirts and putting them through a machine called a Hollander beater. This turns the shredded shirts into a pulp that is used to create paper, some of which the veterans print their work from the writing program on.
Murphy said many veterans, including himself, feel a connection to their fatigue shirts, which makes destroying them for art difficult. Because of his bitter memories of the war, which include watching his friends die or get injured, Murphy said he has been unable to bring himself to part with his last shirt from Vietnam.
"The thought of rendering it down for artwork, it's just really hard to give it up," Murphy said. "It's really hard to give up the last one. It's a real statement when the guys and women come home and they bring something that's a very deep part of their identity and turn it into artwork, and it's really beautiful."
Lebron Rankins, a psychologist at the Center for Counseling and Psychological Services, is leaving at the end of the semester to work with veterans at the Dayton VA Medical Center in Dayton, Ohio. He said though he hasn't explored the Veteran's Sanctuary, quiet, structured settings are often therapeutic for veterans.
"There are numerous mental health-related organizations that provide opportunities for veterans … to just be in a safe, calm place such as a farming community to learn how to manage their stressors and be around people as well," Rankins said.
Murphy said the thing that sets the Sanctuary apart from programs like it in other places is that veterans are not pushed or required to reach set goals.
"That space can be what veterans want to make of it," Murphy said. "If you like the notion of writing and the camaraderie and you can meet people you relate to and … if you need a place to go and get away for a minute, then you go to the Combat Paper [Art] studio or you go to the garden, and you know you're going to be met there by people who care."