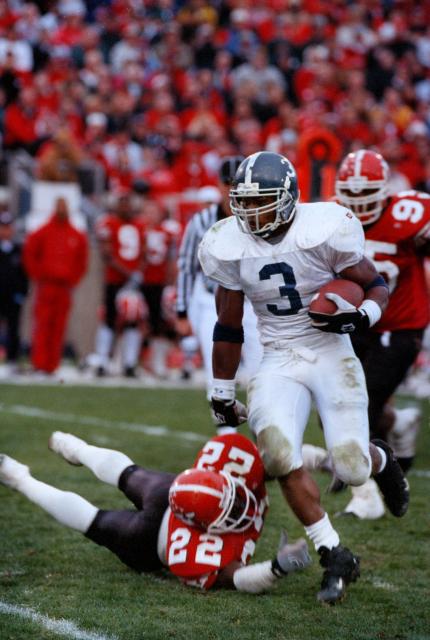 It is paramount you watch that video before reading this. If you don't have a few minutes to watch some of the greatest football highlights you'll ever see, then go away because what I'm about to say will make no sense at all (if you're really, really cramped for time, fast forward to 1:55 — you'll get the gist of it).
Since I'm done with Lin and sick of Peyton (I know you're not, ESPN;) ), I figured I'd serve up some February football. Maybe it's the R. Kelly in the background, maybe it's the dapper-looking basic jerseys or maybe it's the underdog story that I love so much; but Adrian Peterson is one of my favorite athletes.
Yeah, that guy who roadkilled William Gay is good, but I like this Adrian Peterson better. I'm not sure how you can watch his highlights from Division 1-AA school Georgia Southern and not come away mystified. He tosses another human to the ground while carrying a football and running for 50-plus yards. After splitting/spinning through two others. He's a hoss. An ox. He was probably the MewTwo of Division 1-AA football.
But standing at 5'10" he was only drafted by the Chicago Bears in the sixth round. You might remember him — if you do, probably only because you accidentally drafted him in fantasy football — because he played sparingly in the NFL. He's currently playing in the UFL for the Virginia Destroyers.
Why? I tried to find out why a man who averaged 160 yards rushing per collegiate game never got a shot to be featured in the NFL. Or why he wound up playing for Georgia Southern and not the University of Georgia after running for almost 5,000 yards in high school and averaging 8 yards a pop as a senior.
Yeah, maybe I didn't look hard enough (Chipotle just opened in Ithaca, sorry I'm not sorry), but with those numbers I really shouldn't have had to. In one of his first (and last) starts, on November 13, 2005, he racked up 120 yards on 24 carries with a touchdown against the 49ers. The next season he was back to special teams duty (forcing a fumble in the NFC Championship game).
Sure, he came from Georgia Southern where he wasn't playing against full-time professional Division 1 athletes. Sure, he was (kind of) short. Sure, he probably didn't get the looks he probably deserved.
But isn't that what makes a star? The guy could flat out play, there's no denying that. Wish I could interview him. I'd wonder what he thinks about Jeremy Lin.