Well, it's that time in the semester where everyone starts to slowly drown under the weight of final projects, exams, and papers. We can do it ya'll. We can do it. Speaking as someone who finished a paper about eight minutes before it was due today because I had absolutely no motivation to work last night, I thought it would be an appropriate for me to offer some tips on self-care.
These past few weeks have been particularly challenging for me. They've been filled with homework, responsibilities, and other personal struggles. But there have been many wonderful thing happening too. I bought a new car—it's pretty and white. I'm moving to DC for the summer—aka getting the heck out of upstate New York. Bringing in the Bystander is getting off the ground and we had a successful event as part of Sexual Assault Awareness Month last week. I have a lot to be proud of and I'm trying to focus on that. That being said, obligations and deadlines and things that I have to do have been piling up on my shoulders and my emotions have been spinning back and forth between feeling very happy and very stressed and overwhelmed.
That's why this past Tuesday I took the day off from all responsibilities and deadlines and any other commitments and drove to Syracuse, NY for the day. At the risk of sounding like a brat, you should know that I had to go there anyways for a doctor's appointment at the Medical University and I got shots so getting to take a break was my reward.
I cleared my calendar and turned my phone on do not disturb and headed out I-81 for an hour and fifteen minute drive singing along to the most recent playlist that I'd made. In those moments, I was able to forget about the past few weeks and just focus on what I was doing right then. Driving is weirdly therapeutic for me because I have to focus on the road and my mind cannot drift too much. Sounds weird, I know. But that's the thing with self-care, you have to find what works for you.
After I shelled out way too much money for parking and I navigated through SUNY Upstate Medical Center and made it through my appointment, I set my GPS to my favorite vegan restaurant. It's this hippie café that serves these awesome all-vegan food and milkshakes. If you've never had a vegan cupcake or milkshake, I suggest that you pick one up.
I had my computer in my bag. But I never took it out. I decided that I didn't come there to do work or even to just sit and check Facebook. I just wanted to sit and drink my milkshakes. I think if you're going take some personal time, you have to really commit. So turn off the technology.
I think sometimes we get so caught up in to-do lists and even little things like constantly updating social media pages take up our time and make us feel like we need to always be connected with others even when we are physically by ourselves and this can be problematic.
So I shut it all down and spent the rest of the day walking around different parks. Over these past couple weeks, I've been running from meeting to meeting, eating meals as I work, and catching random one hour naps when I get the chance. I took a break and didn't let myself think about certain stresses that have been weighing on me for a while and I just enjoyed the sunshine and put my feet up.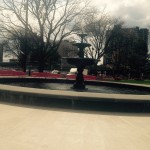 This school year presented many challenges for me that are too personal for me to share on this blog. But there have been many wonderful parts to it as well—like this blog that has given me an outlet to share my thoughts with others. That was my goal the other day—I wanted to relax and focus on the good things. And sitting on a park bench in front of a fountain reminded me that there are a lot of little, really great things in life that we should stop and take a lot at every now and again.
Anyways, I'm going to wrap up this post before it becomes completely cheesy. But that's my suggestion for today: take a break and take some alone time.
All the best,
Christina