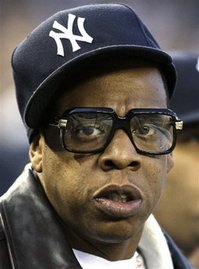 It was a late night. I had already crushed my C13 (Sesame Chicken from Capital Corner. Comes with fried rice, spring roll and won ton soup — very underrated). Somehow, someway we all got on the topic of hats. What is the best hat you've ever seen? A Fourth of July American flag hat? An old school snapback? My very own Southeast T-Ball snapback hat? My Gatorade hat? Definitely not your gross fitted hat you wear all the time, that thing has sweat stains all over it. This is how the conversation went.
Naturally, we decided on nothing. We did come to one conclusion — The New York Yankees logo is the best logo in sports.
Aside from my personal feelings about the Yankees, there's no denying it's true. Slap that intertwined NY on an anvil, a fork or a birthday cake and people will know exactly what it stands for. No, not the Yankees. New York. That's New York's logo.
I understand that it is the Yankees' logo but it isn't. They have their pinstripes (and technically this is their official logo). Could you rock the Statue of Liberty on a shirt? Would you even want to? If I'm visiting New York I want to see the Statue of Liberty, see the Empire State Building, see Ground Zero, see Times Square. But if I want to buy a piece of New York there's no better way than that N and Y.
It transcends sports. Who cares how the Yankees did last year, that hat will never not be cool. Or never not be hated. That's the beauty, there is no in between with the Yankees logo.Yes, the logo is simple. But that's why it's so profound. Nike Swoosh, Apple. Simple. You see that half-bitten apple and you can go through a multitude of emotions. You see the Pittsburgh Pirates logo and you think and feel nothing. You see that Yankees symbol and there are tons of reactions that it brings. It does even look neat — a quick glance and it looks like a jumble of lines, even optical illusion-ish.
Now, I do not like the Yankees one bit. Ask an eight year old me if I'd ever be caught wearing a Yankees hat and I would have spit on you and thrown my Hot Wheels at you.
The late night chat ended up with a Yankees hat being given to me as a present. It is now on my head.
P.S. To young Andrew — not a sellout, more than sports.