Coachella 2012, a celebration of music and fun in Southern California, just finished over a week of festivities to the largest crowd they've ever entertained. Coachella has long been a favorite of hipster music lovers (this year's line-up included Bon Iver and The Black Keys,) but it has also garnered a following among the fashion crowd. From supermodels like Karlie Kloss and Rosie Huntington-Whitely to "it" girls like Dree Hemingway, Coachella was a watering pool for cool kid couture. Unlike Glastonbury's muddy chic wardrobe of Hunter boots and anoraks and the backwoods style of Bonnaroo, Coachella is the sartorial epitome of effortless bohemian chic and laid-back West Coast style. Unlike fashion week, where attendees dress to impress the fashion crowd, Coachella is a chance for the beautiful people to kick back, relax and enjoy a music festival in the shadow of swaying palm trees, while dressed in casual (albeit beautiful) wear. Here are a few of the hottest trends:
1. Wide brimmed felt hat: channel glamorous 70s style with this flattering topper, worn by Emma Watson, among other concert goers; a wide brimmed felt hat in black, tan or cognac makes your outfit that much cooler. A matching felt bow or ribbon around the crown is optional for a girly twist.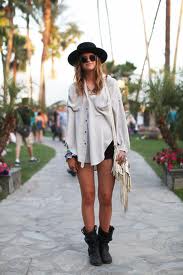 2. Sunnies: Whether in oversized Yoko Ono round shapes (trending right now), cat eyes, vintage shades, or the quintessential Ray-Bans, sunglasses are a practical must for Coachella attendees. Keeping the sun out while upping your style quotient? A great pair of sunnies does just that.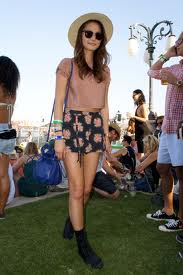 3. Statement shorts: Sunny weather calls for legs for days. Shorts in all styles and shades made appearances at Coachella; from retro style high-waisted ones to artfully frayed cut-offs, shorts were the modus operandi of those who flocked to Coachella. For the adventurous, floral prints are the latest trend; brights and pastels also proved to be festival favorites. Traditional wearers can enjoy denim cut-offs.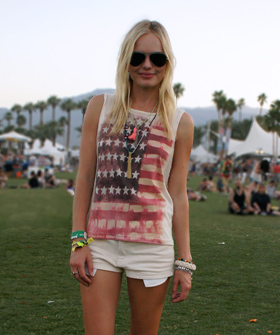 4. Party shirt: From the vintage band shirt to the neatly tied crop top, t-shirts are the signature piece of Coachella darlings. Whether shredded, off-the-shoulder or cut in a boxy style, the perfect t-shirt is insouciant cool.