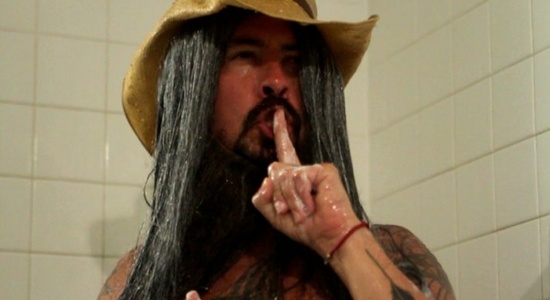 Who dares to take on the Foo Fighters? Everyone's favorite group of crazies, the Westboro Baptist Church does. Back on August 30th, the roving band of gay-haters took their act over to Kansas City to protest the Foos' concert while brandishing their "thank God for dead soldiers" signage. As one may surmise, the funniest guy in rock, Mr. Dave Grohl, wasn't going to sit back and let this happen. Oh no.
First, a little history. About a month ago, the band released a YouTube video promoting the new leg of their North American tour. Press releases just don't cut it anymore. But this wasn't just any video. It was titled "Hot Buns" and featured the band donning trucker garb and faux facial hair to star in a raunchy adult-themed shower session. How does this relate to promoting a tour? Well, after the boys finished frolicking in the steam, they hoist themselves into trailer trucks and the dates of the tour flash onto the screen. Check out the censored version below. There's also an uncensored one if you're in the mood for some Foo Fighter tail, but you're on your own for that one.
And I'm guessing that's why the WBC has the Foos in their cross hairs. So they took to the streets outside of the Kansas City venue. Inside, the band changed into their trucker alter egos and rode into the street on a trailer bed with instruments in hand. Click the link below to catch the band preaching acceptance through the majesty of song.