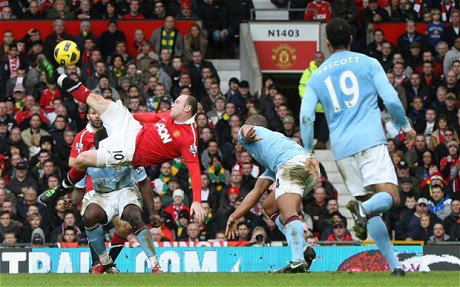 Good for you, surprised you clicked on this. You know it said "soccer", right? It's not too late to turn back now.
Dudes pile in the room. Chocolate covered almonds and Tostidos are fluently tossed at mouths, people and my floor. We are watching ESPN. ESPN 3. It's the second leg of the Copa del Ray quarterfinal between Barcelona FC and Real Madrid.
Aside from the fact that we turned down the commentary (no, Joe Buck is not announcing the game, it's a step up actually — it's in Spanish), the scene looks like it did Sunday afternoon for the NFL Playoffs. But it's soccer.
It's interesting how that six letter s-word has become somewhat of a swear word in American culture with synonyms such as; soft, weak and tender-hearted. But that's the thing — it's none of those. I implore you to watch this if you've never played soccer or continually dis the sport. I even dare you to slide into a pair of cleats that happen to be worn by a full grown man who also happens to be running at you full speed.
Yeah, the diving is unacceptable, but so is blaming a kicker for losing an NFL Playoff game. Some things just come with the sport.
Like it or not, soccer is bursting in America. Albeit slowly, it has some roots. I reacted like a lunatic during these goals, absolutely insane. Scared my new puppy so bad he wouldn't come near me for a day. You can't not enjoy watching America win in soccer. Honestly, feel free to explain to me how you didn't enjoy either one of those goals, enlighten me. Maybe, you won't watch any other soccer other than the World Cup — which is fine, but realize it's growing on you. It's like the disease that kills all the bad guys in War of the Worlds — it's just there looming in the background. Last year, as a freshman, all I played on Xbox with my friends was NHL '11. Now it's FIFA '12 (this doesn't seem like a huge deal but, trust me, it is).
Lately, SportsCenter has been letting fans vote #viatwitter on that night's Top 10 plays. Guess what sport had the number one play last night.