I fell in love in the 2nd grade. It was at the Scranton Public Library, and I was reading a book titled "Meet Thomas Jefferson." I have this vivid memory of looking at a painting of Jefferson sitting by a fireplace, studying from his law books, and thinking, "wow. hot." (or something similar to what an 8 year old would think).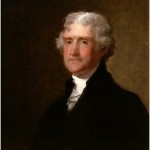 So, I checked the book out and refused to give it back to the library. To this day, I still cannot use my library card because I'm still asked, "When will you return "Meet Thomas Jefferson?" Give it up, people. It was in the last millennium.
Anyway, I'm still a huge fan of what I think is our smartest (and hottest) president ever. So, when I saw that some of his last books had turned up, I was stoked. As much as history textbooks are beneficial, I firmly believe that the one of the best ways to understand history is to use primary sources — and Jeffeson's books are a great example.
Jefferson was a man that once said, "I cannot live without books." And I think that's something that this generation forgets. When the Internet started, there was all this emphasis about how it was going to change the way we learn. Knowledge was right at our fingertips. But has reading become a lost art? According to this article in the New York Times, Jefferson used to scrawl in the margins of his books with every thought that popped into his head, along with correcting any typos. How many of us even do that today?
There's a lot that can be learned about Thomas Jefferson from his books. And there's a lot that we can learn about education as well.
Also, I bet very few 10 year old girls can say that they actually fainted in Thomas Jefferson's bedroom at Monticello (but I do have to admit, that it was the middle of July, and I have always been sensitive to heat.)