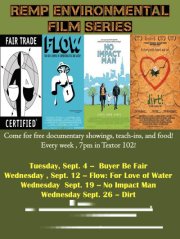 Movies, free food, giveaways and helpful eco-advice. Sound too good to be true?
Well it isn't.
Starting Sept. 4, Ithaca College's Resource and Environmental Management Program will be co-hosting a month-long series of environmental documentaries.
Each week the organization will host a film in Textor 102 followed by a related hands-on learning session or Q&A.
The series kicks off with Buyer Be Fair, a documentary about the effects of business and global trade on the environment.
For more information on the event, check it out on Facebook.