Where else are you going to see Patti LuPone, Sherie Rene Scott, Laura Benanti and "American Idol" first runner-up Justin Guarini on the same stage? Let me repeat that last one: Justin Guarini. Oh, yeah, you heard me. Only in New York, my friend. And if you have some time and spare cash, you could see this phenomenon sooner than you think.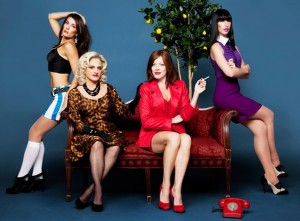 The four actors, along with a strong cast of other Broadway veterans, will perform in "Women on the Verge of a Nervous Breakdown," a musical adaptation of Pedro Almodóvar's 1988 film of the same title that tells the story of a woman whose friends, family and lovers intertwine in 1980s Madrid. Love affairs, crazy antics and hilarity ensues throughout the plot, which is about as easy to describe as it is to find a fake eyelash in a haystack.
The show opens Nov. 4 at the Belasco Theatre in Manhattan, but will begin previews Oct. 8.