In an effort to show Gov. Tom Corbett what a mistake it would be to cut state funding, the Pennsylvania College Coalition is urging Pa state college students to upload videos to YouTube explaining how the cuts are going to hurt them.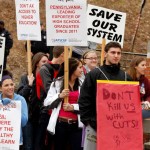 The Pennsylvania College Coalition uses social media like Facebook and Twitter to keep students informed about the proposed cuts.
See, people, it's not just me that's upset about these proposed cuts. If you check out the Facebook page for the coalition, you'd see students across the state, including Kutztown, Millersville, Lock Haven, Shippensburg, Edinboro, Clarion, and so forth attended the "United We Stand — Underfunded We Fail" rally on March 22.
And it's not just in Pennsylvania that higher education will soon be out of reach for working class families. Michigan, Idaho, Georgia and so forth.
So, if state funding to higher education is going to hurt you getting a college degree, I highly recommend you telling your story on YouTube.