Ithaca College has named Linda Petrosino the new dean of the School of Health Sciences and Human Performance, according to a press release issued this morning.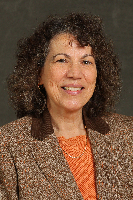 Petrosino was previously a professor and dean of the College of Health and Human Services at Bowling Green State University. Petrosino, an alumna of Ithaca College, received her bachelor's and master's in speech pathology and audiology in 1977 and 1978, respectively. She then received a Ph.D. in Speech-Language Pathology from Ohio University in 1983.
Marisa Kelly, provost and vice president of academic affairs, announced the hire this morning in the press release.
"Linda Petrosino brings to this position a commitment to excellence in teaching and research, a record of outstanding administrative leadership and enthusiasm for working collaboratively across the institution in support of our mission," Kelly said in the release. "I am very excited to welcome Linda back to Ithaca College and look forward to working with her as part of our academic leadership team."
John Sigg, associate dean and associate professor of exercise and sport sciences, has served as interim dean of HSHP for the past year. Prior to Sigg, Steven Siconolfi served as dean of the school since 2002, according to the release.
"It is an honor to accept this leadership position with the School of Health Sciences and Human Performance at Ithaca College," Petrosino said in the release. "The existing strength of the programs and faculty within the school, coupled with the current leadership of the college and dynamic student-centered strategic plan unfolding over the next decade, make Ithaca an amazing community to join. I look forward to getting to campus this summer to begin working with the entire IC community."