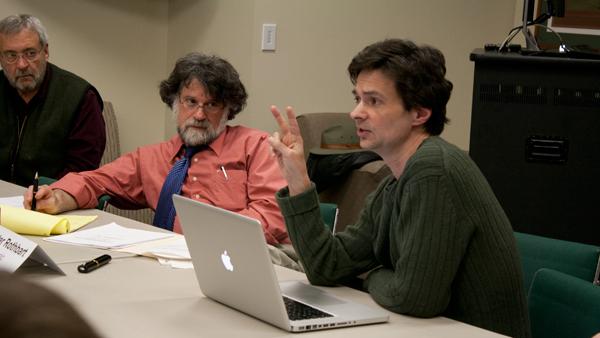 Ithaca College's Faculty Council met Tuesday to further discuss the recommendations from Huron Consulting, ahead of their meeting with Marisa Kelly, provost and vice president for educational affairs, and President Tom Rochon on March 5.
The recommendations from Huron were released publicly to students, faculty and staff Jan. 17 via Sakai.
Kelly addressed the Faculty Council about issues such as the search for a new dean of the School of Music and the search for a new director of intercollegiate athletics and recreational sports. Kelly also focused on the advances of workflow through the Enterprise Content Management system, which will reduce the need for paper for forms such as sabbaticals and admissions applications.
Kelly responded to faculty members' concerns about the major changes in the system by reassuring them no content of the paperwork would change.
"Nothing is changing except for the shift from a paper to an electronic form," Kelly said.
Steven Skopik, chair of media, arts sciences and studies and representative of the Faculty Handbook Amendment Committee, spoke about an open seat in the committee. Skopik also talked about the urgent need to update the faculty handbook with more recent policies and information.
Chris Biehn, vice president of Institutional Advancement, attended the Faculty Council meeting to discuss issues concerning the Huron review. Biehn said the recommendations clearly stated sources for funding.
"That's one of the things I think we are really fortunate to have here is a plan that has clear articulation of where the funds will come from that are gift-related, and they drive what they do," Biehn said. "We don't have to either be the arbitrator or get in the middle of what [Institutional Advancement] are doing in terms of fundraising. The plan sets out very clearly what we need to raise every year in order to meet our marks."
The Faculty Council also discussed the idea of releasing their collective opinions on the Huron Review to the public. Warren Schlesinger, associate professor and chair of accounting, made a motion to pass the decision on to the Executive Committee because members had differing opinions and ideas for methods of publishing. They passed the motion.
Shaianne Osterreich, associate professor of economics and Ithaca Seminar coordinator, emphasized the need for the Faculty Council to focus on the items of the Huron Review that stand out positively among the council, instead of dwelling on the negative aspects.
"We've spent a lot of time focusing on the ailments of the Huron Report that we are most concerned with. If we were to combine those statements with one issue that I don't think we are against — we are not against the increase of transfer students — but I think as a message, there might be other things that we are for," Osterreich said.