In a time where students share access to millions of speeches, documents and literature on the Web, Ithaca College faculty members are turning to the Internet service Turnitin to combat student plagiarism.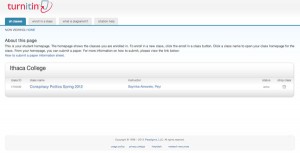 Sixty faculty members across the college's five professional schools have Turnitin accounts. Of the 60 instructors who use TII at the college, 41 do so through the Turnitin Assignments tool on Sakai, and the other 19 use class accounts directly on Turnitin.com, according to data provided by Information Technology Services.
When a student submits a paper to TII, the wording is cross-checked with more than 17 billion Web pages and 200 million student papers. Each paper is digitally assigned an originality percentage based on the amount of similar phrases and sentences that already exist in Web resources.
Beyond checking for originality, TII is an interactive grading and feedback tool, where instructors can add notes to a submission, similar to a paper version. There is also an anonymous PeerMark tool that allows students to give feedback on their peers' work, but no instructors at the college use this feature, according to the ITS data. As of Jan. 11, TII has updated to be more global with Translated Matching, which recognizes plagiarized work from other languages.
Marilyn Dispensa, the college's instructional technology coordinator for ITS, said discussion of originality detection tools began in the Faculty Council. After ITS received a faculty survey in favor of such software, Dispensa said, the college implemented TII on August 1.
"The real engine behind Turnitin is that they will search the text of the submitted document against other papers that are submitted and online things," she said.
Peyi Soyinka-Airewele, associate professor of politics, said she uses TII not for only the plagiarism checker, but also as a tool to help her students become better writers.
"I put a couple of my essays on Turnitin, and it was actually a wonderful experience to utilize it as a way of cross-checking how I was using references," she said. "I found it quite valuable as a scholar."
Soyinka-Airewele said she encourages her students to submit their own papers to find weaknesses in reference.
"I'm actually more concerned with students who don't have a good similarity match in Turnitin," Soyinka-Airewele said. "Very often they are my students who haven't done much research."
Ian Woods, assistant professor of biology, said he started using TII through Sakai to filter out student plagiarism when he began teaching at the college this fall.
"I had a specific requirement that the students not use Wikipedia as a source," Woods said. "Turnitin was just a convenient way to make sure that Web sources at least were excluded as being quoted verbatim."
Not all students enjoy access to TII as much as instructors. Before she transferred to the college, sophomore Kelly Morgan said she used TII for an English class at the University of New Hampshire. Morgan said the program makes students anxious.
"It's so redundant nowadays," Morgan said. "You can't really have an original thought without someone else having already thought of it."