Gossa Tsegaye, assistant professor of television-radio at Ithaca College, has completed close to 75 documentaries in his career. For his latest documentary, "Porchfest: Celebrating the Spirit of a Community Through Music," Tsegaye worked with eight students to film the five-year-old festival Sept. 25 in which bands used downtown porches as their stages.
Tsegaye will discuss the  making of the one-hour documentary at 12:05 p.m. today in Park Auditorium.
Staff Writer Lauren Mazzo spoke with Tsegaye about his experience making the film.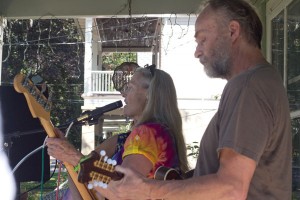 Lauren Mazzo: What motivated you to create so many documentaries?
Gossa Tsegaye: I've always liked to produce documentaries. I try to get my students involved as much as I can, or I can do it on my own. I'm very independent, and I can take my time. I've done a lot of documentaries and also a lot of series of shows on the public access television for many years. So, basically, my interest has always been documentaries, and this one here is, of course, about Porch Fest.
LM: What inspired you to produce a documentary about Porch Fest?
GT: I thought it was a really interesting concept for everyone, whether you're a musician or not a musician. Just the fact that you have a porch and can lend yourself to the open space atmosphere in the community kind of galvanizes the community and brings the community together for one day. It evokes the spirit of the community through music, so I thought it would make a really good documentary. Also, what I'm trying to do is I'm trying to focus my documentaries to be a local and regional type. That's always been my interest. Yes, you can go to Hollywood, you can go to New York City — this and that — but there are a lot of really good gem stories that you can take out of your neighborhood.
LM: What is the message you're trying to get across through this film?
GT: It's just basically that there's a universal language called music, and it doesn't matter who you are, your academic background, your religion, your ethnicity or your sexual preference. For that day, music just seems to bring a choir of people together, whether you're talented or not — just to see that celebration, just to forget about everything else and hang out for a day in the neighborhood and enjoy each other.
LM: How were the students involved in the filmmaking process?
GT: I have eight kids who are involved in this who are students at Ithaca College that I can call upon and say, 'Hey are you interested in helping out?' and they say, 'Sure!' So they came along and they did the sound, the camera and the editing. My goal is not so much to do it on my own, but to get involved in the community and get the students out of this campus atmosphere just to see and walk the walk, and meet and greet what the other part of the community looks like.
LM: Are you happy with the results?
GT: Yes, I am very, very happy. But again, at the end of the day, it's not about me. It's about the kids, the students who were involved, to give them this opportunity to at least feel and see what they're been learning in a classroom setting and apply it in a one day kind of laboratory lesson.