Ithaca College continued its search for a new dean of the School of Health Sciences and Human Performance yesterday, as William Stewart, the third candidate vying for the post, addressed the campus community in Emerson Suites.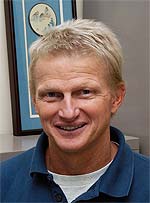 Stewart is presently the associate dean for academic affairs at the College of Applied Health Sciences at the University of Illinois, Urbana-Champaign. His duties at the university include advancing its educational policy and directing a new undergraduate interdisciplinary program in health.
In front of an audience of faculty and staff members that included Diane Gayeski, dean of the Roy H. Park School of Communications and search committee head, Stewart said the IC 20/20 plan was what motivated him to apply for the post. 
"What appealed to me about IC 20/20 was the concept of 'interdisciplinary,'" Stewart said. "That has been such an important part of my own upbringing, my own pedigree. My own professional life has been about picking between spaces of disciplines. If it wasn't for that visionary document, I don't know if I would have thought of applying here."
As part of the college's IC 20/20 strategic vision plan for the next decade, all incoming students, once the document garners state approval, will be required to abide by a new core curriculum, or college-wide general education requirements. Most notably, the integrative core curriculum contains 16 credits of themes and perspective requirements, where students will choose a theme and then take classes in several disciplines, such as natural science, humanities, social science, quantitative literacy and creative arts, including a four-credit Ithaca seminar, related to that theme. The six themes include identities; inquiry, imagination and innovation; mind, body, spirit; the quest for a sustainable future; a world of systems; and power and justice.
In his presentation, Stewart emphasized the importance of interdisciplinary education for students in all the college's five professional schools.
"You want to have everyone in the campus share a very large set of values that gives them incentive to say 'yes' to the student who is from outside the department," he said. "Ideally, you want a person in exercise science to say 'yes' to the communications person when they knock on the door saying, 'Can I have a seat?'"
Stephen Lahr, associate professor and program director in the physical therapy department, attended Stewart's presentation and said the variety of candidates has intrigued him thus far through the search.
"I am just sort of interested to see the range of people the search committee is bringing in for us to think about," said Lahr. 
Rob Gearhart, associate dean of graduate and professional studies, said, regardless of who's hired, he looks forward to working with the new dean. 
"It's a really important search for us," he said. "I am thrilled that we have what looks like four great candidates here, and hopefully, we can make a choice for bringing one of them in, and it will be a great addition to Ithaca College." 
Earlier this month, candidates James Graves, professor of exercise and sport science and dean of the College of Health at the University of Utah, and Ming Li, director of the School of Recreation and Sports Science at Ohio University, addressed the College. The fourth and final candidate, Linda Petrosino, dean of the College of Health and Human Services at the Bowling Green State University, will present at 4 p.m. Monday in the Campus Center's Klingenstein Lounge.
The search committee, headed by Dean Gayeski, consists of 13 members, and the search is expected to take several months, Gayeski said, with Marisa Kelly, provost and vice president of academic affairs, making the final decision. The newly appointed dean will take the place of John Sigg, the school's interim dean, who's held the position since the beginning of the academic year.