The town of Dryden will defend its ban on natural gas drilling in the New York Supreme Court of Tompkins County next week, marking one of the first times a ban will be challenged. The outcome could set a legal precedent for the rest of the state.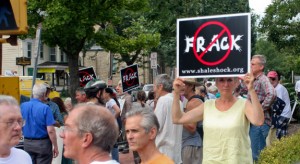 Anschutz Exploration Corporation is suing the town, which is about 13 miles east of Ithaca, citing the ban as illegal under state law. The company contends that state law supersedes local ordinances on natural gas drilling and towns that do not have the authority to regulate drilling.
A trial Nov. 4 will determine whether Dryden's recent zoning amendment that bans natural gas exploration or drilling within city limits will be overturned. The ruling will also decide whether Anschutz can drill on the 22,000 acres of land leases it owns in Dryden.
Hydraulic fracturing or "fracking" is the process of extracting underground resources such as oil and natural gas. It involves pumping about 5 million gallons of water, sand and chemicals into wells drilled into the ground to extract these resources.
Many of the bans are located in large cities not specifically targeted as drilling sites, such as Albany and Buffalo. On Monday, Syracuse also imposed a ban on fracking.
Thomas West, head of the West Firm, a law firm representing Anschutz, said the large-city bans are passed to send a political message about the dangers of drilling, but big cities do not sit on prime drilling ground, whereas Dryden does.
"When you get into Dryden, it becomes more of an issue because we don't know to what extent the shale resources will be productive in New York," he said.
By 2015, natural gas drilling in New York state could create 15,000 jobs in the Southern Tier region and add $1.7 billion in economic activity, according to the Manhattan Institute for Policy Research, a conservative think tank. The report, published in June, stated that the environmental costs would only amount to $14,000 in four years.
Gas drilling companies face significant hurdles in New York. The State Department for Environmental Conservation is reviewing laws for regulating the industry and all drilling in New York state is on a temporary hiatus until the regulations are put in place. The DEC said hydrofracking could begin again under strict regulation next year, but DEC commissioner Joseph Martens on Tuesday said it may take longer.
Dryden attempted to bypass the legislation by banning the use of land for drilling instead of regulating the industry itself, Mahlon Perkins, the town attorney who helped craft the ban, said to the town board during a meeting in June.
"If it does turn out that state law does in fact supersede what you're trying to do, well that's the end of it," he said.
Mary Ann Sumner, Town of Dryden supervisor, said the town is working within its legal rights because local governments historically had the authority to limit practices on town land. She said it is important to remember it was Anschutz who sued them, not the other way around.
"I believe we took the right action, and we will continue to defend ourselves," she said.
The other towns in the state that passed similar bans could face legal challenges if Dryden's ban is overturned. Edward Michalenko, supervisor for the Town of DeWitt, said he is watching the case closely and a similar case in Middlefield. He said he hopes the case is sustained.
If Anschutz wins, West said the lawsuit will allow drillers to access all potential sources if natural gas in the state, which is important because the amount of gas in New York is unknown.
"Anschutz regrets having to bring this case. They respect the authority of municipalities to engage in traditional zoning, they just don't feel they can zone, regulate or ban natural gas production under New York law," he said.
Though Dryden doesn't term the ban specifically on fracking, West said, hydraulic fracturing is the only method for abstracting gas from the Marcellus Shale, which partially lays under Dryden.
"I don't care what Halloween costume you put on it, it's still a ban on hydraulic fracturing," he said.