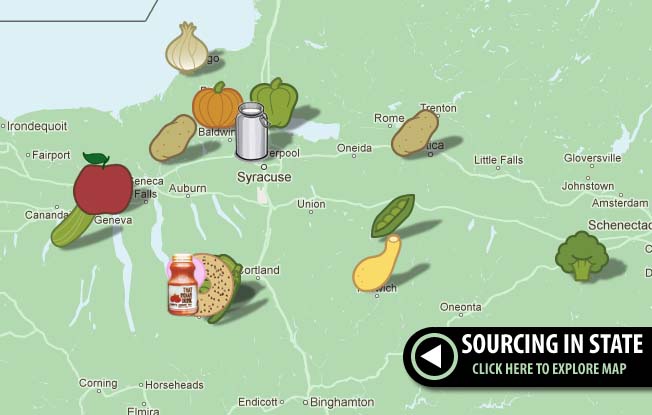 Sustainability is on the menu for Ithaca College students now that the college's dining services are pushing to source more local products.
Members of the campus community, including students and employees, have been working to encourage a shift toward supporting locally produced food. This year, Ithaca College is expecting to have nearly a five percent increased investment in sourcing food from the region.
Sodexo, the company that runs the college's dining services, sources food from 19 New York-based businesses, and 17 of those are within 100 miles of the college. Five are of these food providers are located in Ithaca, such as Finger Lakes Fresh.
Finger Lakes Fresh, a hydroponics agriculture company, provides lettuce to the one dining location on campus that exclusively offers local, fresh and natural foods: the Fresh Food Market within Towers Dining Hall. Steve Holzbaur, general manager of Finger Lakes Fresh, said they sold lettuce to the college sporadically over the years, but for the past two the company has sent 10 to 15 pounds of lettuce per week to the Fresh Food Market.
"Occasionally the other dining halls will call if there's a special event, but that only happens usually about two times a year," Holzbaur said. "But we would love to be in all of the dining halls, not just the Towers."
Finger Lakes Fresh will be expanding next year, and Holzbaur said they will aggregate other local farm products so they can offer more than lettuce, along with some value-added products such as canned and pickled foods.
"We're planning on breaking ground in March, and it'll be operational next summer, so by the time the fall semester of 2013 starts we'd be able to provide quite a bit more," Holzbaur said.
A small pilot project to bring more local products to campus began this year with Tim Leonard, the Towers Dining Hall manager who passed away earlier this semester. Holzbaur said Finger Lakes Fresh had provided several cases of produce, such as squash, tomatoes, corn and beans.
Stephanie Piech, sustainability coordinator for Sodexo at the college, said dining services usually sources the cheapest food available. From what she is able to track, Piech said 14 to 15 percent of food costs were spent on local food.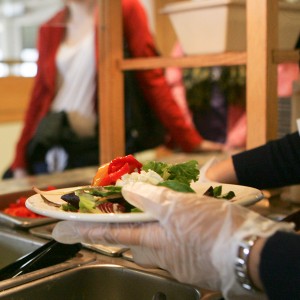 "With a better tracking system put into place this year and an increase of items, I believe we will be closer to 20 percent this year," Piech said.
Sodexo gets the majority of its products from Sysco, one of the largest wholesale food distributors in the U.S.
"As far as I understand, places like Sysco will pretty much get it from the place that it's cheapest to secure from," Piech said. "My understanding is that if it can come locally or regionally, it will, just because a lot of times it's cheaper as far as shipping and transportation."
In the past, students have fought to support the living wage for Sodexo's dining workers and for more vegetarian and vegan options in dining halls. Last year, the college's chapter of the international Slow Food movement created a petition for more local and allergen- or diet-conscious options. Senior Danielle Prizzi, co-president and treasurer of the organization, said they received about 800 signatures.
"[It stemmed from] how frustrating it was that it was our tuition money that was paying to have Sodexo supply our food, while there wasn't a great deal of student input," Prizzi said.
Prizzi said there was an opportunity to source more food from local farmers that Sodexo was not taking advantage of. Slow Food shared the petition with Piech, and they began the feasibility of incorporating more localized food, Prizzi said.
"We realized it would be easier to work within the infrastructure [of Sodexo]," Prizzi said. "I know a bunch of different schools have Sodexo and have dining halls that are completely locally sourced or as locally sourced as possible. I know [the University of Vermont] is a perfect example of students fighting for it."
UVM's dining services are still provided by Sodexo, but because of the campus community's vocalization for more local foods, they now source local seasonal produce for all dining locations.
According to UVM's dining services website, they have increased the number of local vendors and have integrated "core Vermont products" into menus. Sodexo at UVM defined local food as food grown or produced within 150 miles of UVM or within the state of Vermont.
If local food isn't the best option, Piech said, dining services tries to source organic or fair trade products, which ensure fair payment to producers in developing countries. Sodexo introduced the Better Tomorrow Plan in 2010, a sustainability initiative that includes 14 commitments, including local food.
"We will source local, seasonal or sustainably grown or raised products in all the countries where we operate," according to the document.
Piech said this has pressured Sodexo's partners, like Sysco, to work harder to provide local foods. One dimension of local food in which Sodexo has seen success is sourcing local dairy products.
"For any Sodexo campus, all of our milk is always local, regional," Piech said. "Ours comes from Byrne Dairy, so pretty much any dairy we use comes from them."
Bill Byrne, president of Syracuse-based Byrne Dairy, which is 55.5 miles from campus, said the company supplies a basic bundle of milk products to the college. All of Byrne Dairy's producers are in New York, and the products are hormone free, which meshes with Sodexo's sustainability commitment.
Sodexo could bring its push for local sourcing even closer to home, with South Hill Forest Products and two gardens on campus. Senior Amber Zadrozny, co-manager of the campus organic garden, said there could be an opportunity for that partnership as the garden continues to grow.
"There's a possibility in the future, say, if we decided to grow one crop in a large quantity, we could sell it through Finger Lakes Fresh, and they would sell it back to Sodexo," Zadrozny said.
There is no ideal in mind for the future of Ithaca Dining Services, Prizzi said. However, she said transitioning one dining hall to all local foods and expanding from there would allow for a test of student interest and of cost.
"It's going to be a long process to incorporate more locally sourced food, though I really do believe the intention [from Sodexo] is there," Prizzi said. "But there's always more that could be done."
Visit the companion to this article, an interactive food map, by clicking here.