An Ithaca College freshman humorously received national media attention on April 23, when Perry Koenig was featured on a "Fan Corrections" segment on "Conan," a late night TBS talk show hosted by Conan O'Brien. In his YouTube response that aired on "Conan," Koenig pointed out O'Brien's mistaken acknowledgement of the upcoming Batman movie "The Dark Knight Rises" as "The Dark Knight Rising."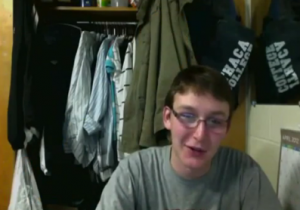 Staff Writer Noreyana Fernando spoke with the television-radio major about being featured on national television show and the response he's since received.
Noreyana Fernando: Tell us how it all started — how did you catch Conan making that mistake?
Perry Koenig: It was about two and a half weeks ago — I was watching "Conan" as I usually do, and I saw a mistake where he said "The Dark Knight Rising" instead of "The Dark Knight Rises." I caught it immediately because "The Dark Knight" is my favorite movie. I knew he had this thing called "Fan Corrections" … so I submitted a YouTube video saying, "Oh, look, I found your mistake."
NF: When were you told your video would be used on the show?
PK: About a week to a week and a half after I submitted it, I got an email on my YouTube account saying that they were considering using my video for air. [The] next Monday, about four days later, I was on "Conan," and I was getting made fun of by Conan. It was lovely.
NF: What was your reaction upon seeing yourself on "Conan?"
PK: I was sitting with my girlfriend while I was watching it, and I legitimately screamed. I was never on TV before, and it was really cool because I have always wanted to be on one of the "Fan Corrections," and finally I was able to. I want to intern with Conan when I am in L.A. for the TVR program.

NF: Conan mentioned the Ithaca College sweater hanging in the background of your video, saying there was "no better advertisement for Ithaca College." Was the sweatshirt really placed there on purpose?

PK: I didn't put it there on purpose. That is actually where I keep it hanging, so I just forgot to move it. He ended up calling it advertising, and I was like, "I am not advertising." That is just where I keep it hanging.

NF: How have your friends and family reacted to your appearance on the show?

PK: I have had numerous messages and numerous wall posts up on Facebook about it. My mom called me up in the middle of it. I have been getting a ton of feedback from everybody. One of my advisers, who I am very close with, was actually showing all of his classes throughout the day the video. I was in a class, and one of my professors overheard me saying that I was on "Conan" and was like, "Put it up on the projector." The whole class watched it.