This fall, Ithaca College has its lowest overall enrollment since 2008. While there has been a small increase in African, Latino, Asian and Native American students at the college, there has been an overall loss 162 students since last year.
Enrollment for Fall 2017 totals 6,516 students. In Fall 2016, the total enrollment at the college totaled 6,678 students. That semester there were 1,357 ALANA students enrolled at the college.This semester, there are 1,379 ALANA students, or 21.2 percent of the student population.  This is a 1.1 percent increase from last year.
Gerard Turbide, vice president of enrollment management, said that there was a relatively large class during Fall 2013. That freshman class had 1,964 students and graduated in Spring 2017. He said the college anticipated this lull in enrollment due to the large Fall 2013 freshman class and had planned accordingly financially. This year's total enrollment is the smallest it has been at the college since 2008, when the total enrollment was 6,448 students.
For Fall 2017, 9,980 students were accepted out of the 14,152 who applied — an acceptance rate of 70.5 percent. Of those, 1,622 enrolled at the college. The acceptance rate did not change drastically from last year, when 14,380 students applied to the college, 10,054 were accepted and 1,632 enrolled.
The Fall 2017 enrollment for the School of Business is 719 students, about 100 students more than last year. The Roy H. Park School of Communications' enrollment is at 1,818 students, about 100 more than last year.
The School of Humanities and Sciences' enrollment is 1,931 students, about 100 less than last year. The School of Health Sciences and Human Performance's enrollment is at 1,505 students, about 200 fewer than last year. The School of Music's enrollment is at 502 students, which is about the same as last year.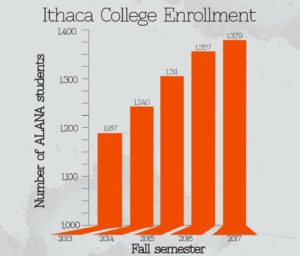 The college's admissions process is race–neutral, meaning that an applicant's race is known, should the applicant choose to disclose it, but not considered as a factor in deciding to admit the student. Instead, the college's efforts to increase the diversity of new classes of students are based on recruitment strategies. The college takes into account the diversity of the schools and cities it chooses to visit, as previously reported by The Ithacan, in order to diversify its incoming freshman classes. In addition, the college has merit-based scholarships such as the Martin Luther King Scholar program and ALANA scholarships specifically for students from underrepresented backgrounds.

ALANA scholarships range from $2,000 to $5,000. MLK Scholarships are $25,000 at a minimum, and any additional aid is need-based. Currently, there are 38 MLK scholars at the college.
Roger Richardson, associate provost and interim chief diversity officer, said that as someone who has worked at the college for over 17 years, he thinks the increase is "tremendous progress." He said that even though only 22 more ALANA students were added to enrolled in the college this year, compared with his first years at the college when there was an even further lack of diversity, this increase is a success for the college. Since 2001, the percentage of ALANA students at the college has steadily increased. In 2001, 7.3 percent of students at the college were ALANA students. Now, they make up 21.2 percent of the population.
"What we have to do is make sure that we are prepared for the diversity of students who choose to come to Ithaca College," Richardson said. "If we see a reverse in those numbers, then we'll have different questions to ask ourselves."
Gossa Tsegaye, assistant professor in the department of Media Arts, Sciences and Studies, said that any increase in ALANA students is a positive one, even though this semester's increase is small. However, he said that he is more concerned about allowing students of color to make more connections to their pedagogy at the college rather than emphasizing connections between students who are of the same race.
"Don't come to my class for someone who looks like you," Tsegaye said. "Come to my class to find someone who thinks like you."
He said the college should emphasize the enrollment of individual racial groups instead of lumping them into the ALANA category. Currently, there are 374 black or African American students, compared to 382 last year. There are five American Indian or Alaskan Native students, compared to eight last year. There are 261 Asian students, compared to 254 last year. There are three Native Hawaiian or other Pacific Islander students; last year there were none. There are 527 Hispanic or Latino students, compared to 515 last year. There are 209 students of two or more races, compared to 193 last year.  
Junior Dana Herbert also said the college should focus on increasing enrollment of each group represented under ALANA instead of grouping everyone together into one statistic. Herbert said the college's low number of ALANA students could potentially discourage people of color from applying to the college or deciding to come after being accepted.
"Even though Ithaca supposedly has a range of diversity, it really doesn't," she said. "That could be a put–off for people even applying to this school, let alone accepting this school."
Junior Julissa Martinez said it is important that the number of ALANA students at the college has increased every year, but that the overall number is still too low.
It is important that accepted ALANA students are aware they would be supported if they decided to attend the college, since the college is a predominately white institution, Martinez said. She also said that students of color who already attend the college also need to feel supported by the institution so they do not transfer or drop out. The college's retention of students to their third semester is 82.7 percent, while the retention rates at some peer group schools, including Elon University, Fordham University, Marist College and Boston University, are in the 90 percent range.  
"I think that because this is a predominately white institution, I think that it's important to have people who look like you on this campus as well," Martinez said. "As a student of color, I think it is pretty intimidating when you're in some classes and you don't see anyone that looks like you."
Assistant News Editor Sophia Adamucci contributed reporting.