As the 2014–16 student trustee's term comes to a close at the end of the spring semester, a selection committee will nominate three applicants to be voted on by the Ithaca College Board of Trustees.
The college's student body has representation on the board of trustees in the form of an undergraduate student with full voting rights. In addition, the board is made up of 15 trustees, one staff, one faculty and two alumni trustees. In contrast with the 15 trustees who are inducted by the board's Governance Committee, Nancy Pringle, secretary to the board, said the staff, faculty and student trustees are nominated to the board by a selection committee.
The Association of Governing Board of Universities and Colleges conducted a study in 2010 of 507 colleges and universities that revealed 70.8 percent of public institutions include at least one undergraduate student on their board, compared to only 20.1 percent of private institutions. According to the AGB, because private schools are not subject to state laws, they would only include a student trustee on a voluntary basis.
The college's student trustee is currently junior Ciara Lucas. Lucas said the student trustee is granted full voting rights, serves on the board for two years and provides the student body's viewpoint while considering how higher education functions. They attend the board's meetings in October, February and May as well as any additional meetings.
"They understand that, as a student, I am here, feet on the ground, having all of these experiences that other students are having similarly," she said. "So I have always been able to voice those concerns and let them know of an issue that they should pay attention to."
She said she informed the board about the concerns of students during the fall semester, especially as a student of color during the protests.
Lucas said, "I could speak from personal experience and say 'Here's what I've experienced, and this isn't everyone's story, but here's why some students don't feel safe,'" Lucas said.
According to the study, only 8.5 percent of private schools have a student trustee who can vote. Many colleges don't have voting student members because they are less experienced than their fellow board members, and it creates a conflict of interest when the students have to vote, for example, to approve tuition rates, according to a brief from the AGB.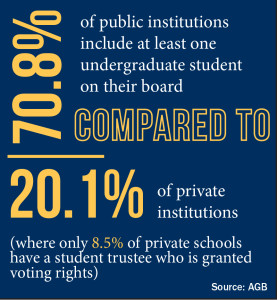 The AGB declined to comment on this article, citing their article as the source of relevant information.
Butch Oxendine, executive director of the American Student Government Association, an organization that helps train and network student government leaders, said it is unusual for private college boards to grant their student trustee a vote because they are not bound by any state laws that would require them to do so. He said many boards feel governing matters should not be made public to students.
"Many trustees feel that student leaders, while well-intentioned, usually just aren't competent to serve as 'real' trustees," he said via email.
Pringle said the board has a long standing tradition of including an undergraduate student in the board structure as a voting trustee.
"I know the Association of Governing Boards … advises against it for 'best practice,' but that's the way it's always been done since the '70s, and that's the way it will be done in the future," she said.
Lucas said that when a vote comes before the board that would come into a conflict of interest for any of its members, they are required to yield their vote.
"All trustees know if you have a personal interest in a certain topic that is being discussed or voted on, they simply can't vote on that issue," she said. "I don't vote on anything that has to do with tuition because I'm a student."
At the end of the two-year term, Lucas said, she organizes and serves as chair of a Student Trustee Selection Committee, which is composed of students and one staff member. The committee solicits position applications from the student body, and following an interview process, Lucas said, the committee will nominate three students to be voted on by the board in mid-April. The board's decision will be announced at Commencement weekend in May.
Oxendine said this is an unusual process.
"Our research says that the student government president is most common as the trustee," he said. "And that applies to public, private and community colleges. That is by far the most common."
Student body president President Dominick Recckio said there is value to separating the two roles.
"For example, the student body president has the ability to independently critique the board and their practices … without being tied directly to them or their action," he said.
Pringle said the process for selecting a student trustee at the college allows for the current student trustee to give advice to incumbent trustees.
"If any of the nominees have any questions, who better to ask than the person who had the spot for two years?" she said.
Oxendine said the second most common way a student trustee is selected is by a majority vote by the student body.
Lucas said the most essential quality of the student trustee is their engagement with the campus community and that she is looking for this quality in the candidates.
"The student trustee position can't go to someone who doesn't know the issues that Ithaca College is facing or isn't involved," she said.