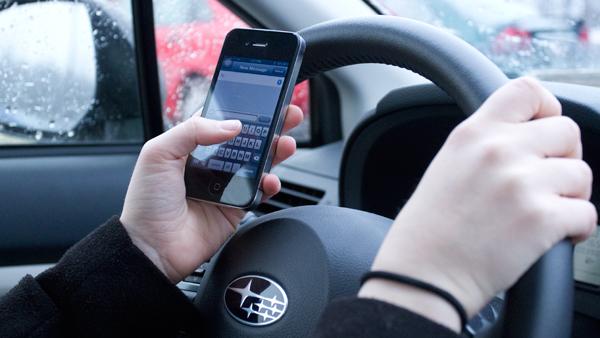 For the next two weeks, the Ithaca Police Department will be targeting distracted drivers as a part of a new initiative.
Through extra patrols funded by a grant awarded to the IPD by the New York State Governor's Traffic Safety Committee, the police department will ticket drivers who use a cellphone without a hands-free device or use any electronic device for functions such as sending or viewing text messages or emails. The grant was for $5,400. Enforcement dates will be between Feb. 18 and March 1.
Jamie Williamson, public information officer for the IPD, said each year the department applies for a grant from the committee. Then, over the course of the year, the committee notifies the police department when, and for what, the grant can be used.
"They'll tell you what the specific ticket is that the grant can be used for," Williamson said. "So they said from Feb. 18 to [March 1] you can utilize the grant for extra patrols for distracted driving."
The state law, updated in July 2011, states it is illegal for drivers to use electronic devices while the vehicle is in motion and that cellphone use requires a hands-free device. A violation can result in a fine of up to $150 and three driver penalty points.
The goal of this enforcement effort is to promote awareness, reduce the number of motor vehicle crashes that occur in Ithaca because of distracted driving and make Ithaca's roadways safer. Williamson said distracted drivers tend to be younger, under the age of 25, but there have been violators in their 60s or 70s.
"For this distracted driving detail, we see more younger people committing these violations," Williamson said. "I graduated high school 20 years ago, and we didn't have cell phones then — we didn't even have computers. So there are some folks at my age who either don't carry cell phones or they're not as prone to use them or pick them up when they're driving."
Thomas Dunn, sergeant investigator for the Ithaca College Office of Public Safety, said distracted driving is a problem on the college campus.
"Of the tickets our officers can write for all of the vehicle and traffic violations, cell phones are one of the higher-occurring offenses," Dunn said.
Some students are concerned that Public Safety is too quick to ticket. While Public Safety is not a part of the grant with the IPD, officers do pull students over for violations. However, senior Perri Rumstein said they have pulled her over for no reason.
"I've been pulled over multiple times from quote-unquote drunk driving when I was not intoxicated, and they made me get out and breathalyzed me, and it's pretty embarrassing when you're not drinking and people are watching this happen," Rumstein said. "So I think that they stretch their authority a little bit."
Rumstein said targeting distracted driving will add to campus safety, but officers should be certain of a violation while ticketing.
"Cracking down on distracted driving and texting while driving is a good idea as long as they're sure the driver is actually distracted," Rumstein said.
Senior Marc Phillips said he is grateful for the officers' focus on distracted drivers, as he had a personal experience where he was almost in an accident due to a distracted driver.
"I've seen people talking on their phones — like holding their phones with one hand and another hand on the steering wheel, and if they got a grant to crack down on that, then excellent," Phillips said. "One time I almost got into an accident because a girl was on her phone, with again, one hand on the steering wheel, and she just blew through a stop sign."
Williamson and Dunn both noted the connection of distracted drivers to accidents. Twenty-eight percent of traffic accidents occur when people talk on cellphones. Drivers are also eight to 23 times more likely to crash while texting and driving, according to the National Safety Council.
The IPD has advanced in its ability to accurately investigate accidents, and Williamson said they've found cell phones to be instigators of accidents.
"Where we've been able to reconstruct what has occurred, we have shown that cellphones are particularly distracting," Williamson said.