It has been more than a decade since the Kingdom of Bhutan introduced a media
organization. Christopher Sperry, director of curriculum and staff development at Ithaca College's Project Look Sharp, touched down in the snowy region of the Himalayas last week to help the Buddhist kingdom further develop its media literacy. For the next week, Sperry will host workshops and train media educators.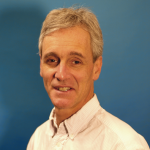 Staff Writer Candace King spoke to Sperry about his predictions for the state of Bhutan's visual media.
Candace King: What was your reaction when Bhutan requested you teach media literacy?
Christopher Sperry: [Project Look Sharp] attended a national media literacy conference in 1998, and one of the participants was a Buddhist monk from Bhutan. He was there to learn about media literacy because the next year they were going to introduce it to the country. This fall, I went into the office at Project Look Sharp and our program coordinator mentioned that she got what she thought was a prank request on the website from Bhutan for a media literacy workshop. But as soon as I heard that, I flashed back to 1998 and I got very excited. From there, we made contact, and now I'm here.
CK: What was your first impression of Bhutan?
CS: As one would expect for the land of Gross National Happiness, it has contradictions and complexities like all countries. It is a core developing nation and it shares many of the same challenges that all developing nations and all nations share. But it has a rich and deep cultural tradition and strength emerging from its Buddhist history and its strong national identity that put it in a unique position to enter into modernity from an aware position.
CK: What tools do you plan on using for the workshops to train the teachers?
CS: One of the primary tools in training teachers is constructivist media decoding, which is an interactive process where teachers lead the students through reading, interpreting and evaluating media documents, be it websites, commercials, or book excerpts. Rather than the teachers traditionally filling the students up with knowledge where the students are in a passive position, the teachers are excited to learn and practice a form of deductive questioning and inquiry-based learning and teaching.
CK: What is one thing from your experience in Bhutan that you plan to bring back to
the college?
CS: I hope to develop relationships that can be carried on not only between myself and the educators, but between the educators and students in Bhutan and its states. One of the wonderful advantages of these tools is the ability to communicate across great distances and even across cultural divides.
For more information on all of Sperry's experiences in Bhutan, visit looksharpblogs.org.