President Donald Trump's administration is considering redefining gender based on one's sex assigned at birth, a plan that would eliminate the federal recognition of transgender and nonbinary people if implemented. However, state and college policies currently in place would provide protections for Ithaca College's students if this redefinition occurs.

According to a memo obtained by The New York Times, the U.S. Department of Health and Human Services is leading an effort to define gender as male or female and unchangeable, eradicating the federal recognition of 1.4 million transgender Americans. Genetic testing would be used to clarify any disagreement over a person's sex.
If the department's definition is approved, it would reverse the Obama administration's recognition of gender as a concept that is decided by individuals' "internal sense of gender" or how they choose to self-identify. The proposal could affect Obama-era anti-discrimination statutes adopted by federal agencies, including Section 1557 of the Affordable Care Act, which prohibits health programs that receive federal funding from discriminating against people based on gender identity.  
In the past, it was widely held that gender was determined by one's anatomy, however that idea has now widely been abandoned.  
Article 129-B, a state guidance document for the State Education Department and the New York State Office of Campus Safety — also known as the Enough is Enough law — is a law that protects transgender and nobinary students at public and private higher education institutions in New York, Maggie Wetter, Title IX deputy coordinator at the college, said. Because of this state legislation, even if the Title IX guidelines change, the federal civil rights law that prohibits discrimination on the basis of sex in federally funded education programs, transgender and nonbinary students will still be protected.
Title IX Coordinator Linda Koenig said there is no plan to remove gender protections, including protections for transgender and nonbinary students, from the college's Title IX policies, regardless of the Trump administration's decision.
"I am disappointed that our national leadership is excluding genders outside of the binary," Koenig said. "However, … we can continue to provide the same support and protections for all students regardless of their gender identity."
The college's nondiscrimination policy currently includes protections for transgender and nonbinary students, stating that "Discrimination on the grounds of age, disability, marital status, national origin, race, color, religion, sex, sexual orientation, gender identity or expression, or military status will not exist in any activity, area, or operation of the College."
If a student experiences something incongruent with the nondiscrimination policy, the college offers several ways to report incidents. These include filing a Title IX complaint, calling the Office of Public Safety and Emergency Management, using the college's anonymous public safety telephone line or filling out the Bias Impact Reporting Form, Luca Maurer, director of the Center for LGBT Education, Outreach and Services, said.
Transgender and nonbinary students at the college are protected off campus in Tompkins County as well. In Tompkins County, it is illegal to discriminate against people based on gender identity or sexual orientation, so transgender people could file a discrimination complaint with the county's Human Rights Commission.
A number of other states have their own laws protecting transgender and nonbinary students. The California Student Safety and Violence Prevention Act of 2000 prohibits discrimination on the basis of gender identity in any educational institution, including colleges, that receives state financial assistance. The Minnesota Human Rights Act protects transgender and nonbinary students in public and private colleges from discrimination. Under the Oregon Revised Statutes 659.850, students are prohibited from experiencing discrimination based on gender identity in any higher–education program or service that is financed in whole or in part by the state legislature.
In states that do not have statewide laws that protect transgender students, local laws could still offer protection under this proposed policy. While Pennsylvania does not have a statewide law prohibiting discrimination against one's gender identity, 53 municipalities in the state passed nondiscrimination laws to protect LGBTQ people.
Following the report from the Trump administration, the college's Center for LGBT Education, Outreach and Services posted a message of support on its Facebook page to the transgender nonbinary and intersex community.
"Trans, nonbinary and intersex folx have always existed," the center wrote via Facebook. "We stand with you. We affirm you. We support you. Please reach out if you'd like to connect."
Maurer said he was incredibly dismayed when he heard about the proposed policy.
"It's an outright attack on transgender people and everyone who loves us," he said. "This is going to impact a lot of people. Some of them are transgender people, some of them are not, some of them are intersex people, and because of intersectionality, folks who are people of color, folks who are young, folks who are elderly, folks who are immigrants are going to experience compounding marginalization."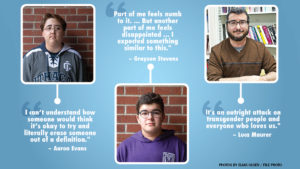 The Center for LGBT Education, Outreach and Services serves to inform people of their options if they want to bring forward a complaint and facilitate connections with offices that could help resolve any issues, Maurer said.
In 2016, the National Center for Transgender Equality released the largest survey of transgender people in the United States ever conducted. In the survey, 40 percent of respondents said they had attempted suicide in their lifetime, compared to 4.6 percent of the total U.S. population. The survey found that 31 percent experienced at least one type of mistreatment in a place of public accommodation.
LGBTQ organizations have also reported a lack of transgender and nonbinary representation in data collection. Data gathered on transgender people can visibly quantify the ways they experience discrimination, Maurer said.
"If you say we're gonna define folks differently and say there's no such thing as transgender, it also means we can't collect data to describe ways that we're desperately impacted," Maurer said.
Maurer facilitated a discussion Oct. 23 at the college about LGBTQ inclusivity, where he talked about what people can do in light of the policy. He said people can participate in public comment periods where they can share their thoughts about the policy on regulations.gov before it would potentially take effect. Maurer also encouraged the discussion group to reach out to the transgender and nonbinary people in their lives and offer support.
"This is a real moment for nontransgender people, for cisgender people to talk to each other," he said. "There's the very real possibility that this could be extended to other groups of people. This administration has mounted an all-out attack on Muslim folks, immigrants, undocumented folks, people of color, people with disabilities, children, and so this is just the latest attack. We have to have a conversation about all of this and actions we can take."
During Spectrum's Oct. 23 meeting, one of the college's LGBTQ organizations, the club members held a discussion on the implications of the policy.
Sophomore Spectrum President Grayson Stevens, a transgender student, said the policy is a type of discriminatory law he thought Trump would enact.
"Part of me feels numb to it," Stevens said. "But another part of me feels disappointed, and even that's too strong of a word because I expected something similar to this."
Stevens recommended that students at the college vote in upcoming elections for candidates who support the rights of the transgender community.
"I think we still have a long way to go — a long, long way to go," he said. "And sometimes, it's hard to not feel hopeless or cynical about that, but we do still have a lot that needs to change."
Freshman Lauren Obusek said she was disgusted when she first heard the news of the proposed policy. Obusek encouraged other allies like herself to reach out to transgender and nonbinary students on campus and show solidarity.
"Have that safe space for them so that they aren't afraid to come to them with their troubles," she said. "I think the most that we can do is support and stand up, and if this situation arises, that we should all protest against it."
Freshman Aaron Evans, a transgender student, said his reaction to the proposed policy was not one of shock but of anger.
"The sad thing about my initial reaction was that it was, 'So this is how they're attacking us today,'" he said.
Evans said it is hard for him to see how someone can say they are supportive of the transgender and nonbinary community yet still support the Trump administration.
"I can't understand how someone would think it's okay to try and literally erase someone out of a definition," he said. "They don't understand that gender is a spectrum, so rather than take the time and educate themselves on the subject, they're trying to mold people into what they want."