Ithaca College may have just broken its enrollment record for minority students, but getting them to campus is only half the battle.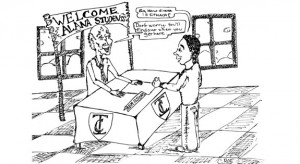 The class of 2015 is composed of 18.2 percent African, Latino, Asian and Native American students, which makes this class the most racially diverse in the college's history. This increase mirrors the national trend of greater diversity on campuses.
Savvy marketing and greater outreach may have helped the college attract more minority students to enroll this fall. These record-breaking figures reflect the college's efforts toward institutionalizing its IC 20/20 vision plan.
Though the college has successfully brought students from diverse backgrounds to campus, current ALANA students have expressed concern over retention rates once they're here. A lack of funding for diversity learning and programming makes students question the college's commitment to increasing ethnic and minority visibility on campus.
If the college wants to bring the diversity promise of IC 20/20 to full fruition, it should direct more funding to programs and on-campus events for current students. Furthermore, the college should seek input from minority students and faculty to help develop programs essential to cultivating ethnic and cultural learning. If such feedback was made available to the public, these joint committees could better hold the college accountable for producing tangible results to their diversity concerns.
With more academic programming and extra-curricular learning, the college will be better able to demonstrate its accountability to the ALANA students it invested time and money in to become part of the campus community.