As the City of Ithaca spends more time consulting with social services to find a solution to its homelessness "problem," it neglects to include the human stories central to this debate.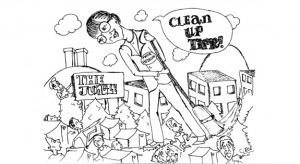 The city intended to evict homeless men and women living in the Jungle, Ithaca's tent city where nearly 50 community members reside, on Sept. 15. But with inadequate funding to carry out its relocation efforts, the city is reaching out to the community for more "creative" alternatives.
For any feasible solutions to emerge, the city must take a more unified approach. By classifying these living conditions as a problem, the city divorces the Jungle residents from their situation. It also divides the Ithaca community. By singling out Jungle residents, the city may create a new stigma around homeless living outside the shelter system.
If the city wants to address homelessness, it must work with those affected to first understand the issue. Jungle residents value the freedom and security of their tent communities, which Ithaca's homeless shelters can't promise to provide. After conducting screenings on those who need its services, the shelter selects qualified homeless individuals and requires them to adhere to the shelter's rules and policies. The city must take this into account when developing relocation plans.
The city must also be willing to hear and understand Jungle residents' stories to detect the structural problems in the community contributing to these living conditions. Once found, the city can make improvements to change the situation.
While no one person can be guaranteed the same quality of life as another, everyone should be given equal access to the lifestyle they prefer — one that encourages personal freedoms. It's important for the city to recognize that before it can expect to see change within the homeless community.