The newly coined 'American Autumn' has marked a season of burgeoning protests, but its momentum is nothing like movements abroad.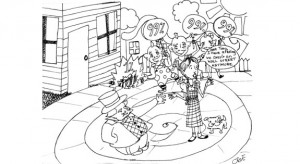 The Arab Spring saw a series of revolutions that erupted in the Middle East. In Europe, teenage vandalism and police brutality emerged from anger toward budget cuts and economic disparity. But across America, citizens are participating in peaceful protests, civil disobedience and democratic assemblies to show their disapproval of the existing establishment.
A common trend among these protests is the youth action. While Middle Eastern conflict was often rooted in violence, the Occupy Wall Street activism has demonstrated a shift toward a more collective, peaceful mentality.
While the 1960s and 1970s were characterized by unrest and riots protesting the Vietnam War and racial segregation, our generation has been relatively passive. This millennium has been dominated by a perception of issues being too large and complex to tackle.
But as students begin to see the real threats to their health, the environment and their futures, activist organizations have provided an outlet to collectively and peacefully address these concerns.
As youth build support and mobilize masses of like-minded people, they should continue to link their individual causes and demonstrate their frustrations by resisting violent means. Students should use political education strategies similar to Labor In Promoting Solidarity's speak-out on student debt.
By building a collective knowledge and sharing tools that strengthen the messages of social movements, people can network with one another to develop leaders that can carry forward the energy and action of its organizing efforts.