Double majors at Ithaca College may want it all, but will a heavier course load help them get it now?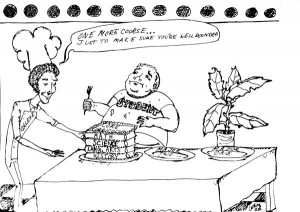 One reason why the college's percentage of double majors is nearly fives times the national average could be its students' opportunistic mentality. The college prides itself on giving students the freedom to choose and responds with a promise to prepare them regardless of what field they decide.
For many students, this means pursuing multiple passions instead of just one. Because of our current curriculum's flexibility, fewer undergraduates have to compromise one interest over the other. A second major may especially help those who follow a vocational track — music, communications, theater and clinical education — satisfy their intellectual curiosity.
A proposal for an Integrated Core Curriculum, however, may inhibit students' ability to pursue two degrees. While the college is trying to retain freedom of choice by offering different "themes" within the core, it requires students to take a minimum of 16 extra credits and fulfill writing and mathematics requirements. Not only would this curriculum introduce a more regimented course load, but it may also create a deeper hole for students who long to fill the existing gap by pursuing two degrees.
If the college wants to better prepare its students for the future, it should offer a wider variety of courses that can fulfill more than one purpose. It should also bring students into the conversation before requiring them to take courses for the sake of "well-roundedness."
By allowing students to dual-purpose their courses, the college can enable students to pursue opportunities outside the classroom that can better prepare them to become socially useful citizens in the future.