While sculptures and murals decorate the Ithaca community, splashes of graffiti hide behind brick buildings and beneath layers of paint, waiting for a chance to join the display.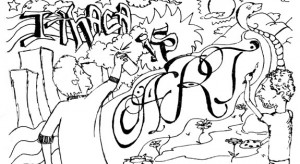 Ithaca has a strong history of public art. Community organizations like the Ithaca Public Arts Commission provide funds to help beautify the city with this artwork. Its latest endeavor, the Mural Street Art Project, funds mural paintings on public buildings that have become tag sites for graffiti.
The most recent mural by Sean Chilson is of "Old Greeny," the mythical Cayuga Lake beast and also the source of inspiration for one of three Ithaca College mascot finalists last spring.
Faculty members of the college's art departments support local artists painting permanent murals in town. They believe it's more visually pleasing than having bare walls vulnerable to graffiti tagging.
However, the blue and brown hues of Chilson's designs, and his free-form style that resembles a more "professional" stroke than graffiti, have sparked controversy among students.
Those who identify with Chilson's art believe the city should dedicate space for graffiti artists to display their work instead of covering it up. By creating a platform for graffiti, the city could decriminalize the art form and revive the '70s graffiti culture.
Because the city seeks to commission artists willing to work for small amounts of money, those already invested in the community would be the most viable option. Hiring students to do the work may help reduce "bad" graffiti and encourage more applicants who won't be turned away because of travel costs when coming to paint the murals in Ithaca.
By making greater efforts to reach out to students or even alum still invested in the arts, Ithaca can form stronger partnerships with these individuals, demonstrate an appreciation for their artwork and seek future monetary support from the community.