Professors aren't babysitters, and giving students more work won't necessarily stop them from partying on Cortaca weekend.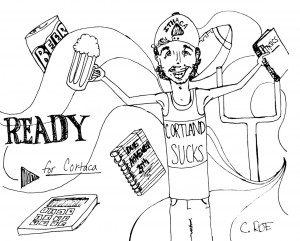 But in an email leaked to The Ithacan last week, Nancy Reynolds, Health Promotion Center program director, encouraged faculty to alter assignments due this coming Monday. According to Reynolds, giving students more work during the weekend of Cortaca Jug, the popular rival football game between Ithaca College and SUNY-Cortland, might help minimize high-risk drinking behavior.
The email, which was sent with good intentions, served as a platform for health promotion. It described a "prevention strategy" of increasing academic work to deter students from making unwise choices to help reduce excessive drinking.
But college professors are not glorified nannies who monitor their students. Their primary role is to provide material that meets the demands of the course for students to achieve its objectives. Yet the email implied professors should change their syllabi to help foster behavior modification.
If students want to be treated like adults, they should expect both the privilege and consequence that comes with such freedom and independence. And faculty should continue to hold them to these expectations. Students who make unwise personal choices knowingly pursue them and suffer the consequences, as is the case in any other scenario.
The Cortaca Jug is a tradition that is not going away anytime soon. The college should therefore continue to take a hands-off approach when it comes to high-risk drinking on this weekend. If students ask to be treated like adults, the college should trust students to make choices that are right for them.