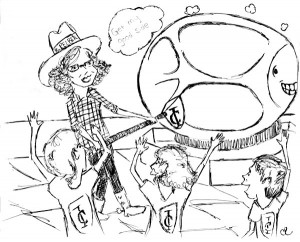 Ithaca College is getting "Ready" for another shot at branding itself. And this time, it's on the right track.
Yesterday marked the official public launch of the college's new brand identity. The campaign, which consists of advertisements, an updated website and a new college logo, uses success stories of students, alumni and faculty to showcase how the college has prepared them for the future.
The rebranding initiative runs in tandem with the IC 20/20 goals of creating a unified vision for the college. Rachel Reuben, associate vice president in the Office of Marketing Communications, along with her team, used feedback from two year's worth of online surveys and focus group discussions to redefine the college and increase its competitive edge among other universities.
Unlike the failed Bomber mascot search last spring, the search committee came out strong with its new logo design this fall. The committee's proposal of three mascot finalists — flying squirrel, lake beast and phoenix — weren't emblematic of the college at all.
Now, the collegiate title is freshly painted in a rich, classic blue and deep gold that captures "tradition" in every sense of the word. The logo is clear. It's strong. And it's actually representative of the college.
With greater efforts to poll educators and students, the college can monitor its process of gradually incorporating the new logo across campus. That way, when prospective students browse the Internet while searching for colleges or alumni return to campus for Fall Splash, they can expect to receive a consistent message about the college's vision to prepare its campus community for the future — no squirrels allowed.