Some students struggle to pay utility bills, while others can't even put food on their plates. These individuals are most qualified to receive benefits from the Supplemental Nutrition Assistance Program, but many fear the social stigmas that come with using them. This shouldn't be the case.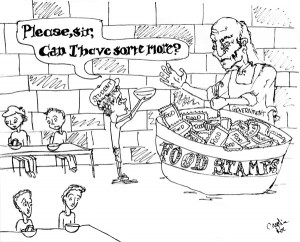 Food is a basic human need. And government programs like SNAP were created to help people with financial hardships feed themselves. With individuals between the ages 18 and 20 comprising half of the county's population below the poverty line, college students should take advantage of food stamps to resolve their issues with food security.
The problem is many students who demonstrate need are unaware of how to apply for food stamps or if they even qualify. As a result, many skip out on meals or buy cheap groceries to get by.
The college has an obligation to make sure its students aren't starving or malnourished. Thus, it should make food stamps more visible to those who demonstrate need. When students first submit their financial aid packages, the college could identify those who qualify for food stamps and give them the necessary resources to apply for the program.
An institutional effort to further support low-income students by giving them the tools to apply for food stamps would be similar to any other grant program created to give them more opportunities. This stance may help eliminate the shame in using food stamps.
By taking the initiative to help low-income students apply for food assistance, the college  may help de-stigmatize the program as something that separates low-income students at Ithaca from their peers, the majority of whom are middle class.